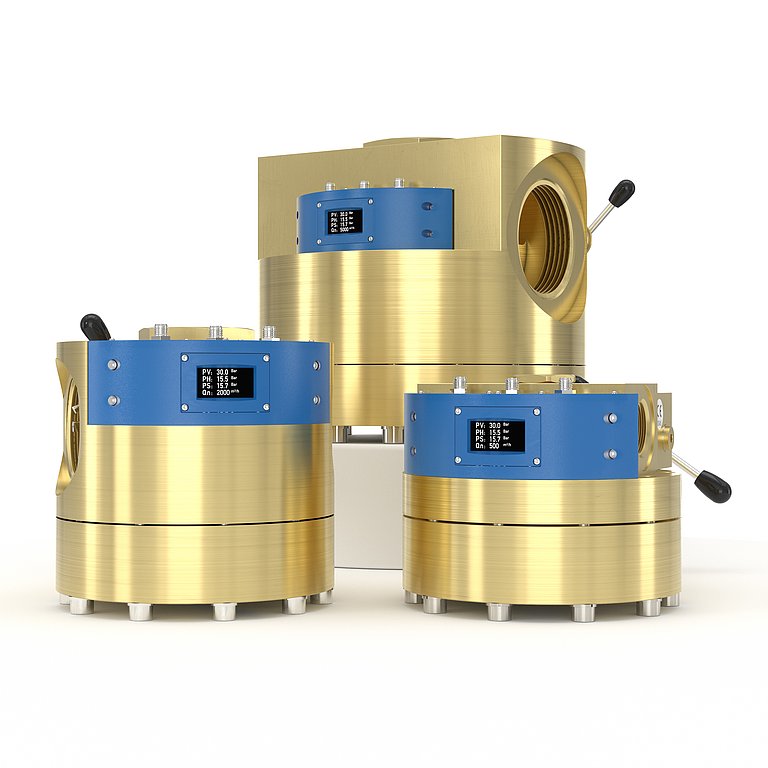 With the 747 and 767 LE/S SMART, Witt-Gasetechnik has now launched two more dome-loaded pressure regulators with integrated sensors. This makes the monitoring of pressures, temperatures and flows easier than ever before.
Following the successful market launch of the 757 LE/S SMART, with which Witt opened the door to Industry 4.0 for pressure regulators, the specialist is now presenting two new models of "smart" dome pressure regulators, which ensure even more transparency and process reliability in gas supply systems:
The new Dome 747 and 767 LE/S SMART offer Kv values of 3.6 and 30; a Kv value of 15 was already previously offered by the 757 models.
The new products now offer a choice of 1″, 2″ or 3″ connection options, and these devices can easily be retrofitted into existing gas supply systems.
The smart sensor technology of the dome-loaded pressure regulators measures the inlet and outlet pressures as well as the gas temperature without the need for external sensors and transmitters. The software in the controllers calculates the gas flow based on the recorded data.
The data obtained from the SMART models are shown in real-time on a small display on the regulator and are transmitted via a network connection. In this way, key people can be alerted quickly if action is required. This ensures maximum operational reliability and process precision.
Witt dome-loaded pressure regulators offer outstanding pressure control accuracy
Witt dome-loaded pressure regulators offer unrivaled accuracy of pressure control. Competitor products typically show pressure "droop" i.e. at higher flows the outlet pressure drops off. With Witt regulators, the pressure curve remains practically unchanged over the entire range of flows.
In addition, they react extraordinarily quickly to changes in upstream pressure. So fluctuations in the outlet pressure until the pressure regulator has found the correct valve opening, or even the notorious "fluttering" phenomenon, simply do not occur. Witt dome-loaded pressure regulators can be easily retrofitted into gas supply lines.
This article is published by
Today WITT is a modern medium sized company which was founded by Paul Witt as a two man operation in the autumn of 1945. The name WITT and later the WITT flashback arrestors with cut-off valves became synonymous with safety in the gas welding industry and spurred the steady ...