Realizing the Benefits of Digital Transformation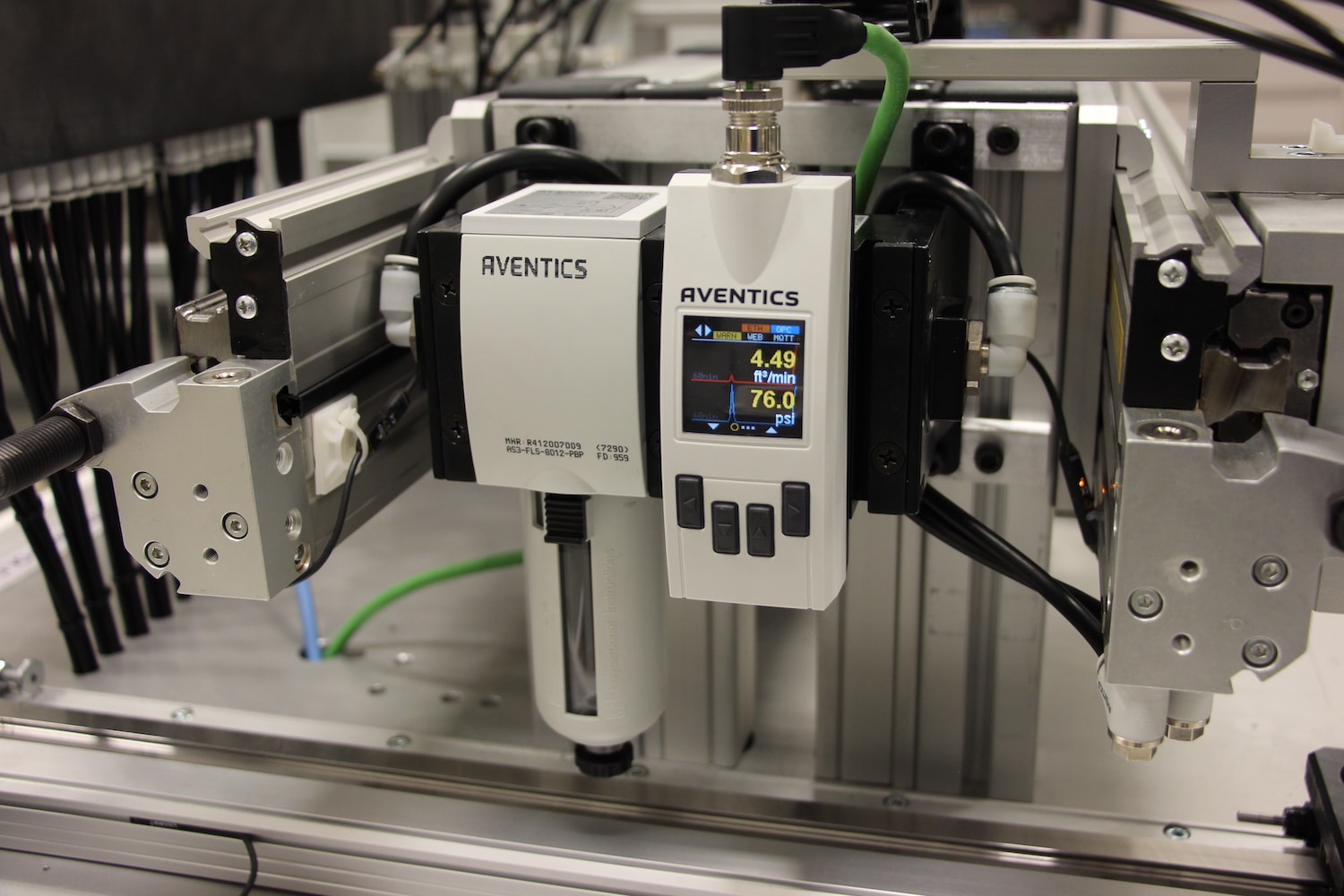 Diagnostic features are nothing new. However, the potential benefits of diagnostics have amplified since pneumatics began its digital transformation.
Smart pneumatic devices can now capture component performance data that can help users unlock a significantly wider range of benefits.
This digital transformation extends to pressure control and measurement. For instance, today's smart air flow sensors can collect valuable data that can help users optimize energy consumption, prevent machine downtime and lower costs.
Yet, even with the promise these smart devices offer, taking the first steps toward integrating them can feel overwhelming for some. When faced with such a wealth of data, they want to know what it all means and how to turn it into useful information.
Turning data into action
For end users who are responsible for maintaining equipment and ensuring it remains running, the path is evident. An industrial internet of things (IIoT) system delivers machine data that guarantees its systems and components are operating within their normal range. For this reason, end users are usually those advocating for IIoT implementation.
The disconnect is often with machine builders. While several customers may ask for smart solutions, OEMs may wonder how devices are implemented, where products can be sourced from and what should be monitored.
So, how does one move past that feeling of overwhelm and uncertainty to welcome the possibility for real improvement in productivity and efficiency?
It's important to consider how end users can translate that data into useful machine insights to react to issues, such as leaks. For example, operators can measure the system pressure and system airflow by using a technology like the AVENTICSTM Series AF2 Flow Sensor. They can see the data in the programmable logic controller (PLC) and, with an edge device, they can collate, analyze and aggregate the data to create actionable insights to provide continuous, real-time machine monitoring.

Users can then correlate the result to an event and conclude that when a given valve is turned on, a certain flow is achieved. If the flow deviates from a derived nominal when the valve is on next time, this indicates a leak within this circuit or actuator. Maybe the seals are wearing on the cylinder. Users may know something is off, but what they do with that information and how they use it is what achieves the benefits that smart pneumatics promises. In this case, users can address the leak as soon as it's detected, saving a significant amount of energy.
Successful transformation requires collaboration
While smart pneumatic components are central to digitally transforming operations, partnership is also key. The Emerson approach to digital transformation is grounded in an understanding that, in addition to the connected technology, success requires collaboration and support. OEMs and end users would usually prefer to have some additional monitoring to make sure that their machine processes are being controlled correctly. We can collaborate with the OEM to develop an open architecture that confirms appropriate sensors are in place and are sensing correctly to help keep that machine running full time. This maximizes the end-user's return on investment by lowering the total cost of ownership of the machine.
Component manufacturers outfitting the machine need to work together to understand how pneumatics come into play, forging a true collaboration that cultivates the best IIoT solutions for customers. At the field level, pneumatics, drives, controllers and I/O systems must all work together. The key is knowing how the data is passing between those items and guaranteeing that the data gets to wherever it needs to go, whether that is locally on a web server, or out to a cloud system.
Consider the energy consumption example: The best way to realize energy savings is to use the correct compressor dependent on the required load. Although we may not produce compressors or control systems for compressors, we can tell the compressor control system what the demand for air is over the next 12 hours with smart pneumatics. And from that, the controls can manage the energy involved in producing compressed air accordingly, because it may not need all the air being produced. This is just one example of components and systems communicating with one another to affect energy savings.
Coming together better pneumatics performance
How do these pieces assemble to achieve real benefits for a manufacturer? One ambition is to enable a highly autonomous maintenance process. That means the pneumatic circuit, or ultimately the machine, has 100% uptime and never fails. Obviously, valves and cylinders go through their specified life cycles and need to be replaced, but the data is there to predict and prevent costly catastrophic failure. For instance, one application predicts the performance degradation of things like pneumatic valves. Based on a life-cycle benchmark and B10 life-cycle credits, we can use the data to track when a given valve will reach 75 million cycles and need to be replaced. The operator can receive a message about predictive failure and replace the valve before production is disrupted. With the right approach to IIoT technology, end users can turn data into actionable information that helps ensure machines are self-diagnosing, provide transparency to end users, prevent failures and result in real benefits.
This article is published by
Emerson (NYSE: EMR), headquartered in St. Louis, Missouri (USA), is a global technology and engineering company providing innovative solutions for customers in industrial, commercial and residential markets. Our Emerson Automation Solutions business helps process, hybrid and discrete manufacturers maximise production, protect personnel and the environment ...