The new U1000 V2 model GF Piping Systems' ultrasonic technology enables the collection of measurements via contactless and uncomplicated installation to occur. The benefits are clear; the measuring system installation requires no production interruptions, provides accurate results, operates cost-effectively and supports digital interfaces.
Whether in heating water, drinking water, or sanitary technology, in industrial manufacturing companies, swimming pools, or in municipal wastewater treatment – piping systems are used across all sectors in a wide range of processes. To ensure their smooth operation, relevant parameters such as temperature, pressure and flow – are recorded with measuring systems. Flow in particular, is critical for operators and owners of supply and production systems. The flow is not just a billing-relevant parameter it also serves as an input variable for control systems and provides information on the performance of industrial or chemical processes.
"Across many sectors, oversized flow meters are still used frequently. Requiring installation by specialists and the costly interruption of production for retrofitting," says Yannic Baeuchle, Product Manager for Automation at GF Piping Systems. This not only causes unnecessary costs, but also places demands on workers. Additionally, invasive sensors encounter aggressive media and are often proven to be less durable.
GF Piping Systems, the piping and measuring technology specialist, tackles this problem with the contactless flow meter U1000 V2. The product provides reliable results and can be used cost-effectively for years without requiring entry into the piping system or interruption of the production process.
The U1000 V2 ultrasonic flow meter always fits
Even during installation, the U1000 V2 has a decisive advantage over conventional measuring systems: The device can be retrofitted easily and within 2 minutes – even during ongoing production without causing disruption. Whereas retrofitting leads to costly interruptions and entails a great deal of effort, due to changes in length, borehole, and mounting work, the U1000 V2 can be installed without entering the piping system and does not require specialists.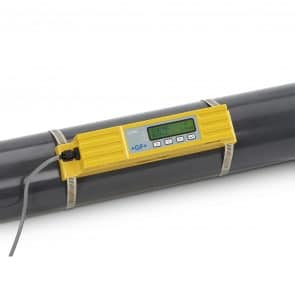 The U1000 V2 flow-measuring device has been designed in such a way that it can be used for a wide variety of applications across all sectors. Thanks to the user-friendly clamp-on mounting on the outside of the pipe, the device can be used flexibly on different pipe diameters from 22 mm to 180 mm. It provides accurate measurement results, regardless of what medium or piping material is involved or where the flow meter is installed.
In operation, the U1000 V2 excels by its immediate operational readiness and user-friendly handling. The system can be programmed in a few steps, and all-important parameters can be entered quickly, thanks to the clearly arranged, large display. When it comes to maintenance and servicing, the U1000 V2 benefits from the fact that, unlike other conventional solutions, it never encounters liquids, and the maintenance and servicing costs are correspondingly lower. This also ensures product quality, since neither the medium nor the production process are affected by the contactless measuring methods.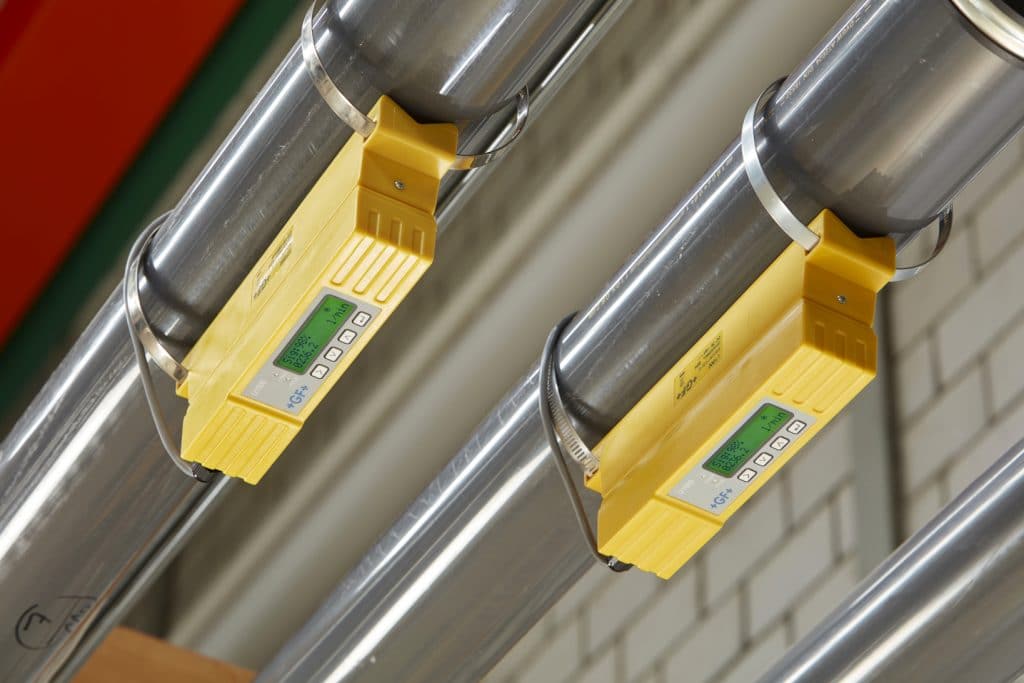 The ideal solution for every piping system
The U1000 V2 provides exact, contactless flow measurement across all sectors. "The flow measuring device integrates smoothly into complex systems, processes and can be combined with existing pipelines, fittings, valves and automation technology elements from GF Piping Systems," explains Baeuchle. By integrating the U1000 V2 into the operating sequence, costs as well as overall complexity of the system reduces significantly.