Hawk Measurement Systems (HAWK), a global leader in measurement solutions, has announced the release of their new SENATOR™ Radar Level Transmitter product line. The SENATOR™ Radar Level Transmitter is a non-contact sensor that uses FMCW (Frequency Modulated Continuous Wave) technology. FMCW technology features a continuous signal transmission, providing immediate measurement updates with zero delay. The SENATOR™ Radar Level Transmitter can be installed inside or outside of tanks and can penetrate a variety of non-metallic materials such as various polymers and composites. The SENATOR™ has the ability to precisely measure distance, level and volume of liquids, solids, corrosives, powders, granulates, rocks, pastes, and hygienic liquids.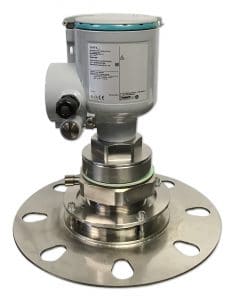 "We are continuing our efforts to provide the highest level of support for our customers and the most innovative technologies," said Jack Evans, President of Hawk Measurement. "The launch of SENATOR™ Radar allows Hawk to provide complete level solutions and prove our capabilities in new markets."
HAWK'S SENATOR™ Radar Level Transmitter is available in 24GHz and 80GHz frequencies. The 24GHz is used in a wide range of applications with good beam directivity and operates with agitation and condensation drop. The 80GHz is the best focusing frequency, available with a small size antenna, no dead zone, and long-range measurement without interference from the environment. The SENATOR™ Radar Level Transmitter is ideal for every application from sawdust to molten steel.