Magnetrol® produces two types of radar level transmitters: guided wave radar and non-contact radar. Both of these transmitters have characteristics that include these four important factors. Here's how the Eclipse® Model 706 guided wave radar and Pulsar® Model R86 and Model R96 non-contact radar transmitters meet crucial needs for level measurement applications.
Eclipse® Model 706 Guided Wave Radar
Performance
The ECLIPSE Model 706 is virtually unaffected by extreme process conditions, including temperature, pressure, specific gravity and dielectric. This means it can be used across process industries even in the most challenging applications. It also has superior signal strength—and the Model 706 has a signal to noise ratio almost 3 times higher than its nearest competitor. Using the ECLIPSE, a plant can measure tougher applications with less downtime.
Diagnostics

In addition to an automatic waveform capture feature, the ECLIPSE tracks and saves real-time and historical data about device performance to help guide users to pinpoint issues when they arise. The device features an LCD display that outputs real-time field intelligence without the need for an instruction manual.
Versatility
A broad probe offering allows the Model 706 to be used in a wide variety of process conditions and connections.
Ease of Use
The ECLIPSE Model 706 comes preconfigured, which means plant operators can take it out of the box, attach two wires, and walk away knowing the transmitter is ready to measure.
Pulsar® Model R86 Non-Contact Radar
Performance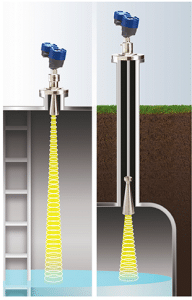 The PULSAR Model R86 features a 26GHz signal, with a shorter wavelength that offers smaller antennas, a narrower beam and improved accuracy. This gives it improved performance in the most demanding process conditions. It also comes with volumetric configurations to help you set up the device for your precise needs. These configurations feature nine common tank shapes as well as a strapping table for uncommonly shaped vessels
Diagnostics
As with the Model 706, the Model R86 has automated echo capture that grabs an echo curve based on key diagnostics, such as loss of echo. An expanded event history shows when and why the echo curve was triggered. This helps plant operators keep track of their operations, even when they may not be present for the event that triggered the curve. Up to 20 configuration and diagnostic events can be viewed in chronological order for the most in-depth troubleshooting insights.
Versatility
The Model R86 can be used in tall tanks up to 40 meters, short tanks, mixing blades, and applications with turbulence. It has 4 horn sizes available for use in punishing conditions and difficult applications. Small antennas can be installed in process connections as small as 1 ½". Nozzle extensions are also available for underground vessel standpipes.
Ease of Use
The circular polarization of the PULSAR Model R86 simplifies installation. No antenna adjustment is needed—whatever direction you orient the transmitter offers the proper alignment. The transmitter also features a setup wizard that explains the configuration process step by step, with real-time help text built in.
For more information on the MAGNETROL line of radar level transmitters and how to choose the best transmitter for your application, visit our radar solutions site.