Fluidwell is a Dutch company with its headquarters located in Veghel in the south of the Netherlands. Fluidwell operates local and regional sales offices in Naarden (The Netherlands), USA, Germany, the United Kingdom and Australia. Next to that we are represented throughout the world by factory appointed distributors.
The company is structured in three business units:
Fluidwell – Accurate Liquid Management – for displays,
Fluidwell Instrumentation – Process Instrumentation – for sensor instrumentation,
ProcessMonitor -Remote Location Surveillance – for remote process monitoring.
We are specialized in the development, manufacturing and marketing of electronic products and services for the process industry. All business units are aligned with the specific applications and users of the products, and share common pools of technology and infrastructure. This arrangement allows the best possible customer and application focus with the most effective collective contribution to the overall strength and productivity of the company.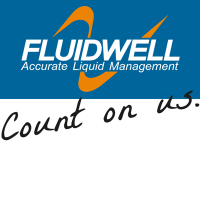 Company name:
Fluidwell Group
Phone number:
+31 (0)413 343 786
Fax number:
+31 (0)413 363 443