Metso will be displaying a comprehensive range of products and services, such as control valves, on/off valves and ESD (emergency shutdown) valves. Being showcased at Metso's stand are the latest additions to their offering and the most comprehensive control valve line available on the market today. Metso experts will share the most recent insights in improving plant reliability and safety through well-planned valve optimization solutions, best-practice maintenance planning and advanced digitalization.
Functional safety calculations are valid only if the right valves are selected
In IVS 2019, Metso's Ville Kähkönen, responsible for industry management in valves, will also present a paper 'Lifecycle of the ESD valve – Install-and-forget device?' on Thursday, May 23 at 10:30 a.m. The presentation will cover how to maintain ESD valves properly to ensure performance and fulfill the original safety requirement specifications.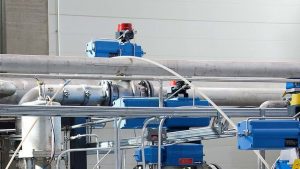 ESD valves are widely used in refineries, petrochemical sites and LNG plants around the world. Top-level safety and field-proven reliability are the requirements for valve solutions. Making the correct final element selection is a vital part of a plant's safety throughout its life cycle. Valve selection should always take into consideration an application-based view, which will guarantee that valves continue to work in emergency situations.
Long experience in providing reliability with flow control
Metso's extensive flow control services offering covers expert services from maintenance planning and execution to performance solutions. Metso has solid experience in delivering engineered performance and reliability to customers through its leading product brands-Neles® and Jamesbury®-and has delivered millions of control valves and on/off valves globally over the last 90 years. The offering also includes standard and severe service globe valves, which offer reliability for the most critical processes and can operate at extreme pressures and temperatures. Additionally, Metso has become one of the leading suppliers of intelligent valve controllers.