As a result of the development of these parallel and faster processes, automation has significantly increased the number of tests, saving manpower whilst ensuring process reliability.
Micro dosing pumps are one of the essential components in these automated systems a good example of which are the HNP Micro Annular Gear Pumps available through UK pump specialists MICHAEL SMITH ENGINEERS. The MZR Mikrosysteme low-pressure series of pumps have been successfully used for sample preparation for SARS-CoV-2 where a few microliters (minimum dose of 0.25 µl) of a solution of chemicals and enzymes are dosed with exceptional precision and reliability.
In some cases, these fully automated analysis devices can contain up to 16 dosing pumps handling up to 4000 samples in 24 hours and this is where the very small footprint of the HNP pumps are really appreciated – the smallest pump/motor unit is under 8cm long and 2cm diameter. Other HNPM Mikrosysteme micro annular gear pumps such as their hermetically inert pumps are also used in the production of vaccines and therefore from diagnostics and research to future vaccine production, HNPM pumps are playing a vital role in the fight against COVID-19.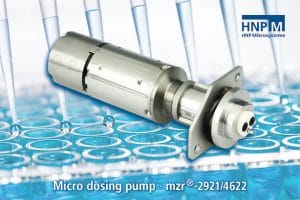 HNP Mikrosysteme MZR low-pressure pumps are ideal for analytical instrumentation applications providing precise dosing of low viscosity and non-lubricating liquids at low pressures. They are designed to handle liquids with capacities from 0.0015 to 272 ml/min at differential pressures to 5 bar and viscosities from 0.3 to 1000 cP.
When used with DC mini-motors they have a small footprint and low power consumption and can be easily be integrated into OEM applications.
Their compact, close-coupled design means small space requirements, helping to reduce possible alignment issues and increasing operational life while the positive displacement performance ensures accurate, repeatable output helping to improve product quality and reducing wastage.