By using this new program, Bronkhorst instruments can easily be monitored, configured and optimized via one single interface. The versatile software has many useful features, e.g. the display of multiple graphs, easy device configuration and real time logging of measured data in a comma separated file (CSV). 
The clean and modern user interface is adaptive and multi-lingual (English, French, German, Chinese, Japanese and South Korean). Bronkhorst FlowSuite is available from the Microsoft store and is therefore easy to install and to be kept up to date.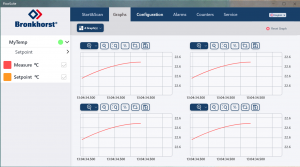 For more information contact:
BRONKHORST HIGH-TECH B.V.
Nijverheidsstraat 1a 
7261 AK RUURLO 
Netherlands 
Tel.: +31 573 458800
E-mail: sales@bronkhorst.com