A Turkish OEM that supplied a Nile River project with one of its pumps that had been fitted with Vesconite Hilube polymer components in late 2018 reports that the line shaft bushings continue to operate well.
The OEM uses Vesconite Hilube in many of its most challenging projects, and this is why it elected to use the polymer bushing material in a project to pump river water from the Nile River.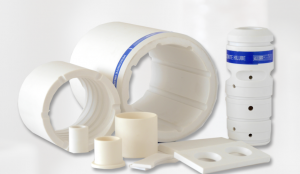 The project is associated with abrasive water with a large proportion of sand particles, which hard-wearing Vesconite Hilube would be ideal for, says Vesconite Bearings technical sales representative Phillip de Villiers.
In addition, since Vesconite Hilube is chemically inert and does not react with mild acid or alkaline chemicals, it would be useful in the Nile which, while it has acceptable water quality, is known to be polluted with agricultural, industrial and household waste, he comments.
This article is published by
Vesconite Bearings produces polymer bushings and wear materials that operate in dirty or wet conditions and still last longer than other products on the market. While Vesconite is the company's best-known self-lubricating, low-coefficient-of-friction polymer, Vesconite Hilube is important for international customers who want the longest life and ...