This leads to industrial valve manufacturers in the power plant industry to seek process equipment that can increase power generation efficiency and maximize power performance.
By looking at the bigger picture, valves seem to be just a fraction of the vastness of a power station. Small as these may be, their role is pivotal to the power plant. In fact, there are many valves in a single power plant. Each of these takes different roles.
While the design principle behind most valves has not changed, the valve materials and manufacturing techniques have greatly improved. With this in mind, valves now can operate more sophistically and efficiently. This article provides insight on valves used in power plants, their significance as well as classifications.
Valves Typically Used in Power Plant Applications
Bolted Bonnet and Pressure Seal Gate Valves
Gate valves have a disc or wedge that acts as a gate that blocks the flow path of media. Not intended for throttling, the main role of gate valves is for isolation of media with less restriction. To fully utilize the gate valve, only use it as fully opened or fully closed.
Gate valves, together with the globe valves, belong to the isolation valve category. These valves can stop the flow of media in emergencies or when the pipeline needs maintenance. These can also connect the media to external process equipment or it can direct which path media should follow.
The bolted bonnet valve minimizes erosion, friction and pressure drop. This is due to its straight-through port design. For the pressure seal gate valves, two designs are available for high-pressure and temperature applications: the parallel disc and flexible wedge.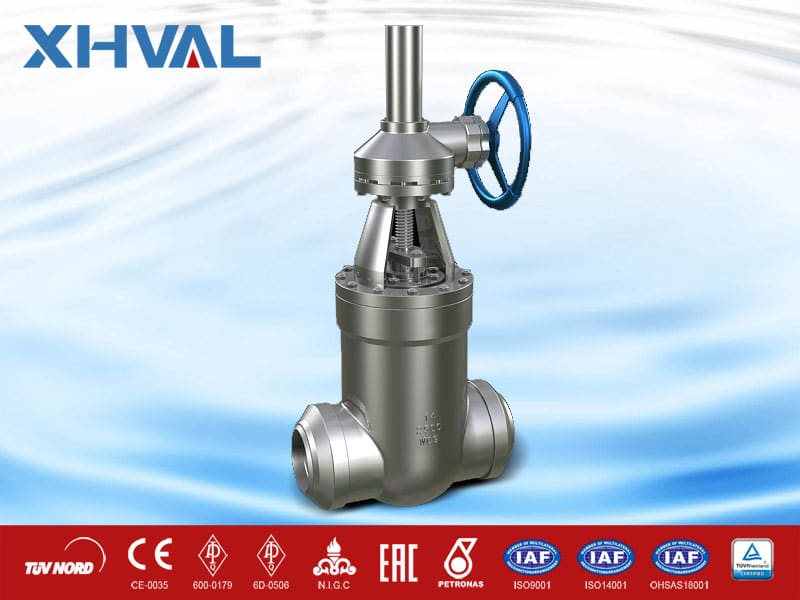 The bolted bonnet type is still usable in high temperature but this type can leak when the pressure increases. For applications higher than 500 psi, use the pressure seal valve because of its seal increases as the internal pressure increases.
The design also allows for minimal contact between the media and the disk. Meanwhile, the wedge design makes it less prone to sticking to the seat.
For applications are below ANSI Class 600, use the bolted bonnet gate valve. However, for high-pressure applications, use the pressure seal gate valves. High pressure can remove the bolts in a bolted bonnet type. This could lead to leakage.
Bolted Bonnet and Pressure Seal Globe Valves
The globe valve is quite similar to the gate valve but instead of a wedged disc, it employs a globe-like disk that shuts off, turns on or throttles media. Primarily, this kind of valve is for throttling purposes. The downside of the globe valve is that it cannot be used with media with high flow rates.
The globe valves, in power generation applications, are effective in controlling flow. Additionally, compared to other valves, the globe valve has a simple design, making maintenance easier. The design creates low friction that ultimately lengthens valve service life.
Considerations when choosing globe valves are the type of medium, the flow speed of that said medium and the amount of control needed from the valve. In addition to these, the seat, disc and the number of turns to open and close the valve should not also be taken for granted.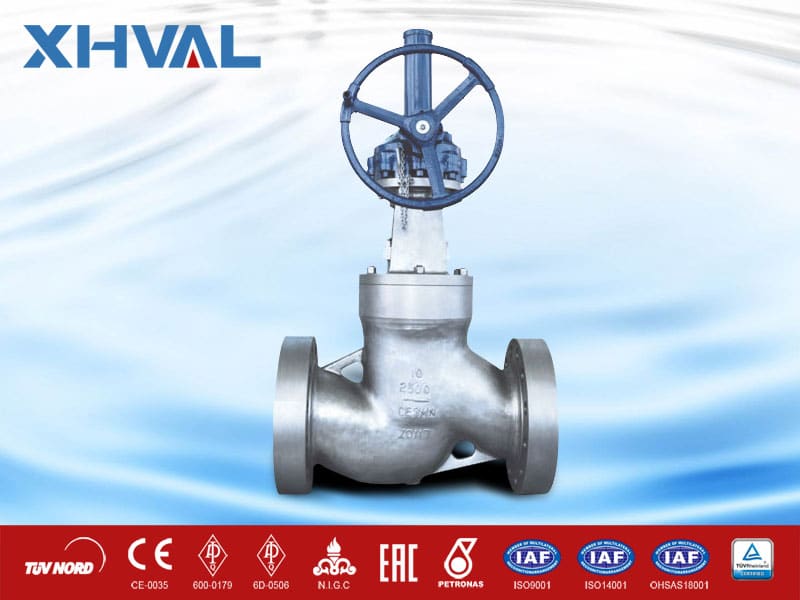 The bolted bonnet type is still usable in high temperature but this type can leak when the pressure increases. For applications higher than 500 psi, use the pressure seal valve because its seal increases as the internal pressure increases.
Bolted Bonnet Swing Check or Pressure Seal Tilt Disc Check Valves
Check valves are anti-backflow valves. What this means is that it allows a unidirectional media flow. The 45-degree angled disc design reduces water hammering as well as can adapt to media with high velocity. Also, the design allows a low-pressure drop.
Check valves protect the entire piping system and equipment from possible damage from reversal flow. Of all valves, check valves, perhaps, take the most damage as these are often more exposed to media and other operational challenges.
Water hammering, jamming and wedging are just a few of the common issues of check valves. Choosing the right valve means more efficient valve performance.
The bolted bonnet and pressure seal tilt disc valves are more cost-effective than any check valve designs. Additionally, the tilt disc design seals more tightly than other check valve designs. Since it has a simple operation, maintaining this kind of valve is also easy.
Check valves are important additions to any application associated with combined cycle and coal-fired power plants.
Dual Check Valves
Considered as more durable, more efficient and lightweight than the swing check valve, the dual check valve has springs that increase valve response time. Its role in the power plant piping system is to adapt to the sudden changes in media flow. This, in turn, often reduces the risk of water hammer.
Nozzle Check Valves
This is a specialized kind of check valve. It is sometimes called silent check valves. The design is particularly helpful when there is a need for a quick-response against backflow. Also, when there is a constant threat for backflow, utilize this valve.
The design minimizes the effects of water hammering as well as vibrations caused by the media. It can also reduce pressure loss and provide quick response to shutoffs.
Nozzle check valves take into consideration the velocity required to open the valve. Fluid media does not need to be in high velocity to close the valve. However, the valve immediately closes when there is a great reduction in media flow. This is to reduce water hammering.
Nozzle check valves are highly customizable to suit the requirements of the powerplant. It can be designed to fit the application. It is not even dependent on the pipeline size.
Metal-Seated Ball Valves
Ball valves are part of the quarter-turn family. Its main feature is the ball-like structure that turns 900 to open or close. This acts as a stopper for the media.
Power plant facilities use metal-seated ball valves because these can withstand high pressure and temperature beyond 10000F. Furthermore, metal-seated ball valves are more resilient and less prone to seat wear in comparison to their soft-seated counterparts.
Its bi-directional metal-to-metal sealing provides better shut-off capabilities compared to other valves. It costs less to repair such valves too. Since it can withstand high temperatures, it is also fire-resistant.
High-Performance Butterfly Valve
The butterfly valve has a wafer-like body with a thin disc that rotates bidirectionally. Being lightweight, it is easier to install, maintain and repair.
Otherwise known as HPBV, high-performance butterfly valves have two offsets instead of one. This creates a better sealing capability. It also creates less friction, leading to a longer service life of the valve.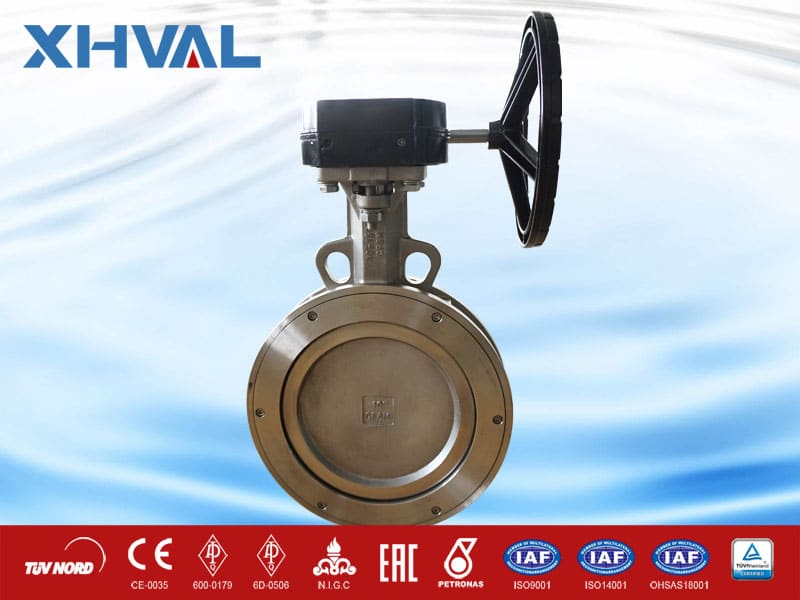 High-performance butterfly valves are often used in water intake applications, cooling water systems and industrial wastewater applications. HPBV has the capability to withstand high pressure and temperature if the seating is metal.
Resilient-Seated Concentric Butterfly Valves
This type of butterfly valve is often used for low pressure and temperature, and less severe power plant applications. With its seat typically made of high-grade rubber, it can close off the valve quite effectively in low-pressure applications.
This type is easy to install and maintain. Its simple design makes the resilient-seated concentric valves more cost-effective to install.
Triple Offset Butterfly Valves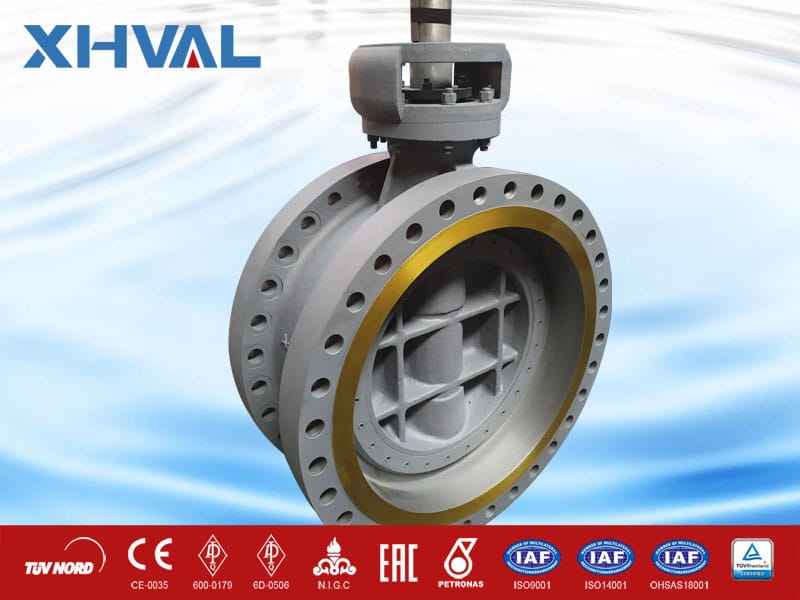 Triple offset butterfly valves have an additional third offset placed in the seat. This third offset reduces friction upon opening and closing of the valve. This valve also provides gas tightness and bi-directional flow. This is the most effective type of butterfly valve when high pressure and temperature are the top considerations.
It provides the best tight sealing and longer service life among all the different varieties of butterfly valves in the market.
Valve Classification in the Power Plant Industry
Each type of power generation application requires a unique set of flow control needs. That being said, there is a myriad of valves in a given pipeline system in power plants. Due to the type of processes happening in a particular part of the pipe system, industrial valves for power plants also need to take different roles.
Valves for High Integrity Slurries
For high integrity slurry, valves need to have tight shut-off. The disc should be easily replaceable because most of the time, the slurries passing through are corrosive or abrasive. For the body, the most ideal is iron and stainless steel for the stem.
Valves for Isolation Services
Valves used for isolation are valves that stop the flow of media due to several reasons. These fall into four categories:
1. Bonnet Gate Valve
The best bonnet gate valve should be made of cast iron. Its seat rings should also be welded to prevent potential leaks.
2. Pressure Seal Gate Valve
The two designs, wedged and parallel, should be hard-faced and have the self-cleaning capability. It should also be easy to maintain and repair.
3. Pressure Seal Globe Valve
For high-pressure services, the disc, seat rings, and the backseat should be hard-faced to ensure longer service life.
4. Bolted Bonnet Globe Valve
The bolted bonnet globe valve is often used for throttling services, the ideal valve of this type must be cast with thicker sections in areas where there is more stress. To ensure that there are lesser leakage potentials, the seat ring must be welded.
Valves for Flow Reversal Protection
These valves protect the counterflow. Valves of this type should have hard-seated surfaces and anti-corrosive bearings. In addition to these, the valve should have large diameter hinge pins so there is room to absorb the movement of the media.
Valves belonging to this category include the following:
Bolted bonnet swing check valve
Pressure seal check valve
Nozzle check valve
Dual plate check valves
Valves for Special Applications
There are also special applications for certain valves. This depends on the type of energy resource as well as the needs of the power plant.
Triple offset butterfly valve
High-performance butterfly valve
Double eccentric butterfly valve
Metal-seated ball valve
Resilient-seated concentric butterfly valve
Summary
Industrial valves used in power plants often undergo intense pressure and stress. Knowing the right kind of valve ensures better and optimal power generation applications.