Maintenance can be broadly defined as all aspects relating to the effective performance of mass flow meters and controllers. Maintenance may consist of corrective maintenance – maintenance conducted when needed, e.g. after contamination – or preventive maintenance, where instruments are periodically returned for servicing or calibration. Today's instruments are increasingly future-proof and 'intelligent'. In addition to the rise of condition-based maintenance, we are also seeing a shift towards predictive maintenance, which helps reduce unscheduled downtime and wastage. Regulations are also having a growing impact on maintenance, with numerous markets introducing more and more instrument maintenance requirements.
The importance of effective maintenance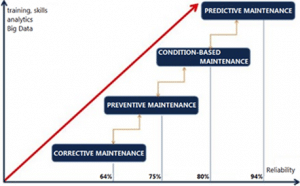 The maintenance of mass flow instruments is of crucial importance to Bronkhorst customers. Bronkhorst mass flow instruments have a highly robust design and are resistant to wear under normal circumstances. Instruments are increasingly being utilised under extreme process conditions. Effective maintenance can reduce the likelihood of sudden failures under such circumstances. Unexpected downtime triggers direct costs in terms of the extra hours that staff need to check and recommission the instrument. Moreover, this downtime also has a negative impact in terms of short-term yields or production quality and potential long-term reputational damage.
The aspect of maintenance plays a considerable role in Industry 4.0. Following the invention of the steam engine, mass production driven by electric engines and far-reaching automation, we are currently in the midst of the fourth industrial revolution. The current revolution is characterised by the application and exchange of data through high-speed network connections, yielding more efficient and intelligent production techniques. This development is also referred to as 'smart industry'. Among other motivating factors, Industry 4.0 is driven by the desire to reduce the cost of ownership. The associated digital technologies can be applied to cut maintenance costs by 30% or more and reduce unscheduled downtime by over 70%. *1) Given these high figures, there is certainly much room for improvement.
What did the maintenance of mass flow instruments look like in the past, what does it look like in the present and what – according to Bronkhorst – will it look like in the future? And what will be the role of Industry 4.0?
Maintenance through the years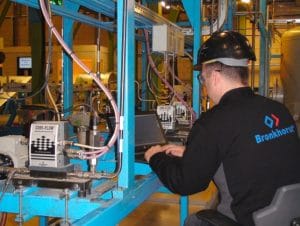 In Bronkhorst's early days, corrective maintenance was still the industry standard. Most mass flow meters and controllers were still analogue and did not have any diagnostic parameters. Any instruments in need of maintenance were either shipped to Bronkhorst or serviced by a visiting technician. This method was extremely costly and time-consuming due to the lengthy downtimes involved.
The company's worldwide service network was later restructured, and currently comprises 20 GSOs (Global Service Offices, authorised service departments around the world) and a 24/7 help desk. Spare parts were kept in stock in order to ensure rapid service.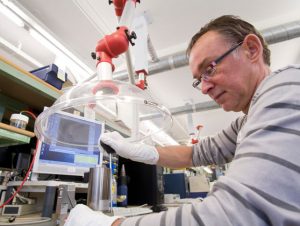 The digital age – which started after the turn of the century and is currently still more or less ongoing – marked the rise of preventive maintenance. Customers periodically returned their instruments to a Bronkhorst service department for maintenance and calibration. Although this still required a great deal of planning and time, the necessary downtime was more or less planned. Despite reducing the likelihood of unscheduled downtime, this form of maintenance offered no guarantees: things could still break down.
Since 2004, instruments can be read remotely through a service we call 'Remote Support'. Working remotely, our support staff can observe the on-site situation and identify instabilities in the customer's process or other issues. The customer connects the instrument to a PC or laptop with online connectivity. The instrument's status can be read on the basis of internal diagnostic parameters. We then use the status indication or findings to identify appropriate measures in consultation with the customer. For example, we can adjust the control setting (PID values) if a process is not being regulated effectively.
A recent case in point: a Canadian customer recently called our Worldwide Support Line. He informed us that an analyser connected to his Bronkhorst vapour flow control (Controlled Evaporation Mixing, or CEM) system application was failing to detect water. Our Remote Support staff used Bronkhorst software to determine that the customer had incorrectly configured a specific control setting: the Bronkhorst liquid flow regulator was not receiving the correct setpoint value, causing the water supply control valve to stay closed. The solution? We worked with the customer to find the appropriate settings for the process, instantly resolving the issue. As a result, there was no need to ship the instrument to our service department or schedule a visit from our technician, saving valuable time and resources.
Ready for the future
As part of efforts to improve our Remote Support, we will soon be introducing an additional service in the form of Bronkhorst Expert Eye. Expert Eye is a smartphone app with video support. The app enables customers to connect with Bronkhorst service staff directly to receive live support. The video and audio connection allows us to provide immediate advice.
In the future, we aim to upgrade the intelligence of our instruments in order to service our customers more effectively. The data applied by our existing instruments contain valuable information on the instrument's condition or process quality of the mass flow controller's overarching system. We aim to apply these data towards more effective preventive maintenance, process monitoring and process optimisation.
We look forward to improving the app further in collaboration with our customers. Please feel free to contact us for further details on specific data solutions for mass flow controllers and condition-based and preventive maintenance.