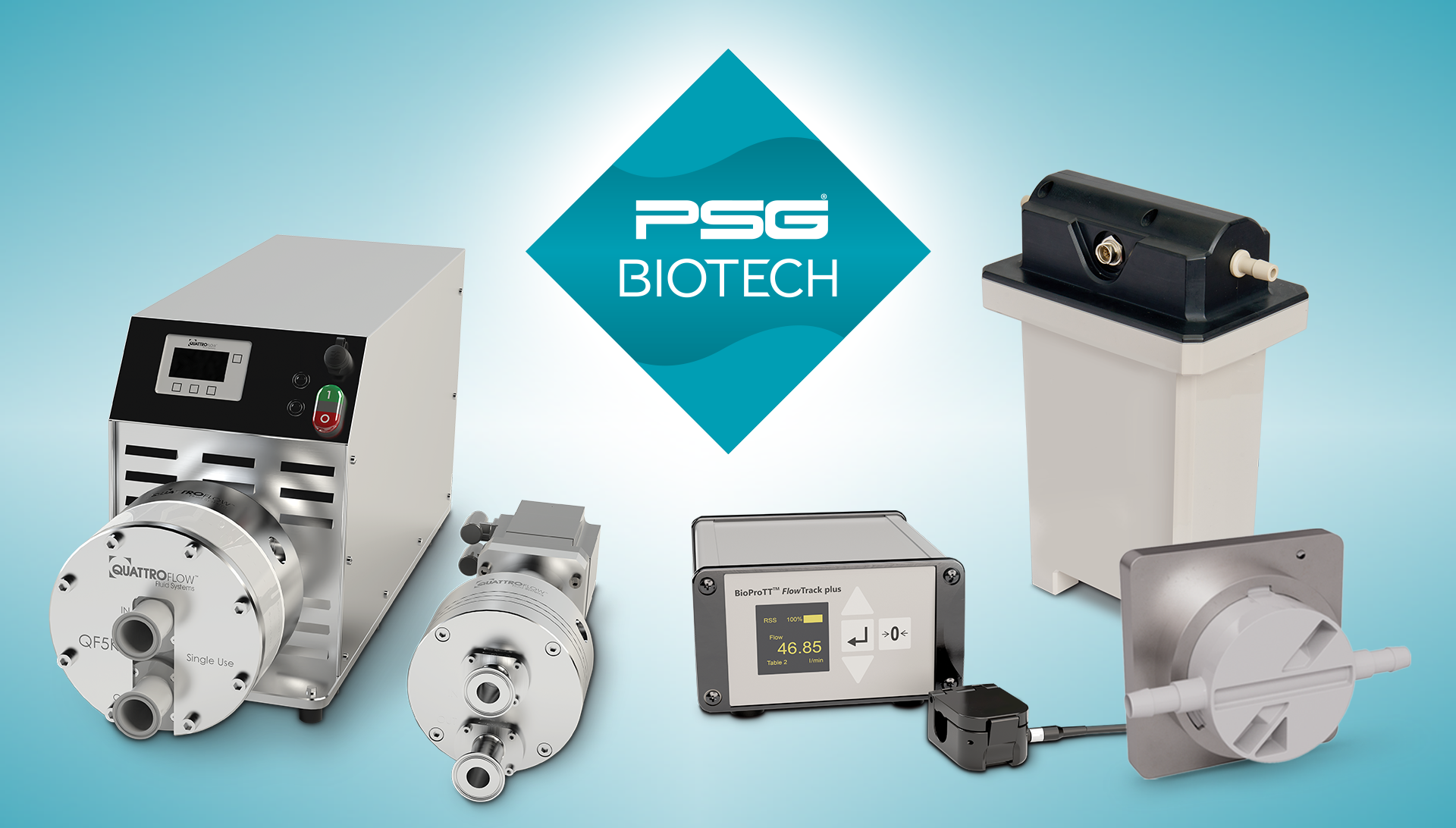 New business unit is committed to "Caring For Every Drop" by providing cutting-edge flow-control solutions for use in critical Life Science and biopharmaceutical applications
OAKBROOK TERRACE, IL, March 31, 2023 – PSG®, a global pump, metering and dispensing-solution expert and an operating company within Dover Corporation, is proud to announce the creation and launch of its new PSG® Biotech brand. This new brand brings together PSG's leading pumping, flow-measurement and flow-metering technologies that have been relied upon for more than 20 years in Life Science and biopharmaceutical production applications:
Quattroflow® Quaternary (Four-Piston) Diaphragm Pumps: Quattroflow pumps meet all the operational requirements necessary to ensure the safe, cost-effective, efficient and reliable transfer of biologic materials. The quaternary-diaphragm technology is able to transfer shear-sensitive aqueous solutions and biologic products gently, safely and securely while being also clean-in-place (CIP) and sterilize-in-place (SIP) capable. The single-use models are equipped with a product-wetted plastic pump chamber that can be replaced as a complete unit for disposal. This capability enables a quicker, more cost-effective and time-sensitive production process by eliminating the need for complex, expensive and time-consuming sterilization and cleaning-validation procedures.
em-tec® BioProTT™ Flow Meters/Sensors: em-tec's BioProTT™ product range of flow-measurement devices has been designed to be an optimized solution for contact-free, non-invasive clamp-on ultrasonic flow-measurement systems that are used in bioprocessing applications that demand reliable and precise flow measurement in accordance with strict hygienic-manufacturing requirements. The new BioProTT™ FlowSU System features an innovative single-use sensor that allows flow measurement and air-in-line detection, and an easy-to-connect holder profile with built-in electronics. This enables seamless system integration, shear-free product transfer and low-maintenance operation.
Malema™ Mass Flow Meters: Headlining the Malema product offering is the first-of-its-kind SumoFlo® Single-Use Coriolis Mass Flow Meter, which offers superior flow-measurement performance and accuracy while reducing the potential for measurement error and eliminating the need for calibration in time-sensitive and contamination-intolerant production environments. Malema rounds out its flow-measurement family with Ultrasonic, Vortex and Paddlewheel- style flow-meter technologies, along with a full range of flow switches, pressure sensors and pressure-relief valves.
"Every day, millions of people around the world are dependent on life-changing or life-saving biologics, medicines and therapeutics, all of which must be produced safely and reliably, with no risk that the end-product's efficacy or patient safety are compromised," said Michael Franco, Director, Global Biopharma Sales for PSG Biotech. "At PSG, we take 'Caring For Every Drop' seriously, which is why we have brought together our best-in-class pump, metering and flow-measurement technologies under the new PSG Biotech brand, with an ultimate goal of helping to enable our clients optimize yields, throughput times and speed to market."
The PSG Biotech brand will be unveiled in-person in Booth No. 1027 at the upcoming 2023 INTERPHEX Show, which will be held from April 25-27 at the Javits Center in New York, NY.
For more information on the ways that PSG Biotech can optimize performance in your most critical Life Science and biopharmaceutical applications, please visit psgdover.com/biotech.
About PSG® Biotech
PSG® Biotech, Oakbrook Terrace, IL, USA, is dedicated to "Caring For Every Drop" by being a leading provider of specialty flow-control solutions, including pumps, sensors and flow meters, that have been designed to safely transfer and precisely meter the most delicate Life Science biologics, medicines and therapeutics, all while increasing yield, throughput and speed to market. PSG Biotech is a brand of PSG®, a Dover company, Oakbrook Terrace, IL, USA. You can find more information on PSG Biotech at psgdover.com/biotech.
This article is published by