With a focus on topics like energy efficiency and digitalisation, there will be innovations on display to touch and feel, presentations addressing the latest from science and research, and practical tips that can be put directly into practice. A first-class roster of experienced experts has already committed to lecture in the high-calibre event programme.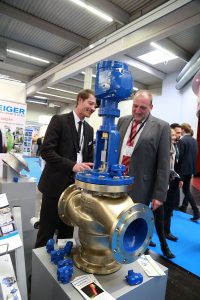 "In 2019, Pumps & Valves in Dortmund is set to be the one event not to be missed by anyone who has anything to do with industrial pumps, valves or related processes," promises Maria Soloveva, Event Director Pumps & Valves for the organiser, Easyfairs Deutschland GmbH. The second edition of Pumps & Valves takes place on 20 & 21 February 2019 at the Messe Dortmund. And next year, it will be the only business platform for this sector in Germany, making it all even more important for exhibitors and visitors to save the date. The organiser has already received numerous registrations from suppliers and users of industrial pumps, valves and related technology. Amongst the exhibitors are many industry heavyweights, including AUMA Riester, Aurum pumps and CADFEM. Düchting Pumpen Maschinenfabrik, Ebro Armaturen Gebr. Bröer and GEMÜ Gebr. Müller Apparatebau will also be presenting their newest products. And: Munsch Chemie-Pumpen, Netzsch Pumpen & Systeme, ProMinent and WP-ARO have also secured stands.
Practical experience for the taking
In addition to the comprehensive exhibition, a carefully curated show programme will offer the latest news from science and research, supplemented with practical tips by respected experts from business and academia alike. Current industry trends such as digitalisation, energy efficiency and modular construction will be explored on the open lecture stages, in workshops and through the guided tours.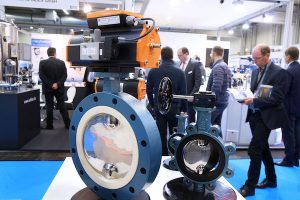 For example, talk topics will include the design, operation and maintenance of pumps and valves; autonomous, networked and decentralized pumps and valves; as well as energy and resource effectiveness. A worthwhile visit is promised by, for example, the workshop "Limits and possibilities of a speed-controlled drive for centrifugal pumps," organised by Doz. Dipl. Ing. Thomas Dimmers, in which one can make measurements, evaluate the energy required – and use the results in one's daily work.
At the same time, the Süddeutsche Verlag is organising events for the first-ever Pumps & Valves 4.0 trade conference. This congress will be a new forum for specialists and executives from not only the process industry, plant engineering and production, but maintenance and automation as well. Innovative approaches to pump systems and industrial valves will be discussed, and participants can exchange practical experience and develop visions for the future.