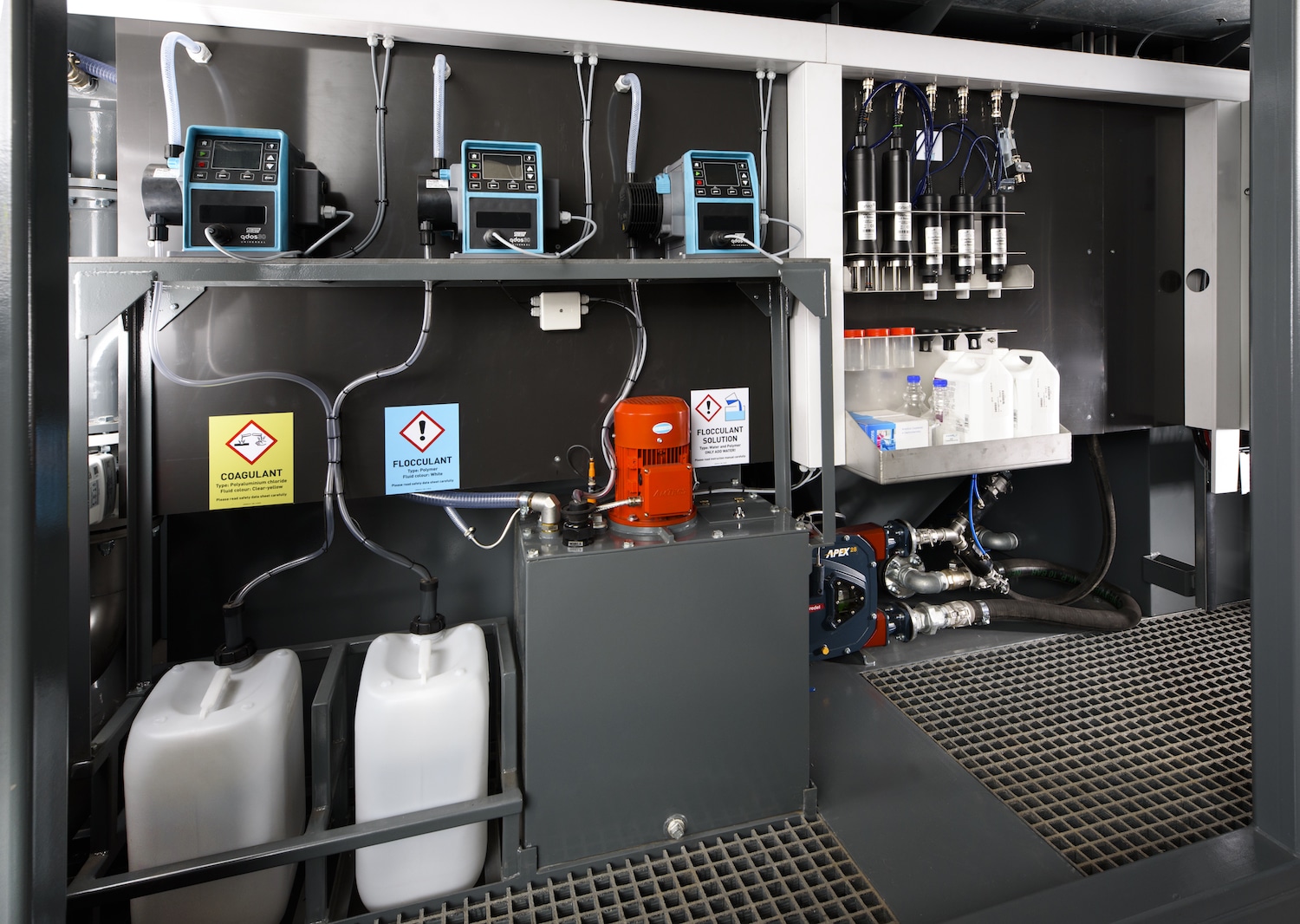 Qdos and APEX pumps help treat hydrodemolition water in latest EcoClear machineHydrodemolition is a technique that uses high-pressure water jetting for the removal or controlled demolition of concrete. The process is proving increasingly popular as it is 100% free of vibration, which is not only good for the operator, but for the surrounding structure. However, the process produces large quantities of waste water that must be treated for disposal or recycling.
Removing sludge
EcoClear works by treating the hydrodemolition water in different internal chambers, working with flocculation technology to remove the maximum amount of sludge from the water. The latest generation EcoClear offers a number of important software enhancements to users. Most of the new software functions relate to higher levels of automated dosing in line with flow rates and stability levels within the water. Dosing is facilitated by three Qdos chemical metering pumps.

"We use a Qdos 30 to dose coagulant into the reaction tank, and a second Qdos 30 to pump neat flocculent to the reservoir, where it mixes with water to provide pre-activation," explains Ronnie Hilmersson, Aquajet's Research and Development Manager. "A third unit, a Qdos 60, pumps the mixed flocculent into the reaction tank. All of the pumps are controlled automatically."

Delivering flow rates that remain constant up to 7 bar, Qdos chemical metering pumps give users several advantages over diaphragm metering pumps. Not only do Qdos pumps cut chemical costs through higher accuracy metering, but simple drop-in installation eliminates the need for ancillary equipment.

To ensure the correct dosage of chemicals within the EcoClear machine, an automatic magnetic flowmeter is connected to the Qdos pumps. The purpose is to improve the settlement characteristics of suspended solids whenever chemicals are introduced to the reaction tanks. Optical turbidity sensors and pH probes continuously monitor and record water quality, ensuring that only clean water is discharged back into the environment. If the water exceeds its required limit, the feed pump automatically shuts down to prevent dirty water from escaping.

To improve settlement characteristics, blast water is pumped into the inlet chamber and mixed with a flocculating agent. Carbon dioxide is automatically introduced via an internal diffuser to create micro bubbles that reduce the pH level of the blast water.
Lamella clarifier
Flocculated blast water passes through a lamella clarifier where the suspended solids settle, leaving solids-free water. This lamella clarifier is produced by Siltbuster and is where the primary function of EcoClear – the separation of water from sludge – takes place.

"We are not a water treatment specialist per se, so we rely on supporting technologies provided by partner suppliers, such as Siltbuster and WMFTG," says Mr. Hilmersson. 

Indeed, the single APEX hose pump located within EcoClear is used for pumping out the settled solid sludge from the storage hopper. APEX pumps use precision machined hose elements and optimised hose compression for flow stability. Their direct-coupled drives deliver the most reliable pump design in a compact footprint. The pump rotor is supported by its own sealed bearing hub, isolating and protecting the gearbox from integral forces.

Clear water
EcoClear is marketed under the strapline 'Clear water, clear conscience', and it is easy to see why. 

"In essence, dirty hydrodemolition water enters the machine, with clean water emerging at the other end where it can be discharged as groundwater or sewer water, or used as part of a closed-loop recycling process," says Mr Hilmersson, who goes on to summarise the important role played by the WMFTG pumps in fulfilling this function.

"The pumps are maintenance-free and we've not had any issues in the field since EcoClear machines were launched in late 2016. Qdos and APEX are good pumps and provide high levels of reliability, which is exactly what our customers need in this application."
This article is published by
A world leader in niche peristaltic pump manufacture and associated fluid path technologies. Every day, we help companies across the globe to be more efficient and sustainable. Since 1956, we have been manufacturing positive displacement pumps and providing engineering support to a range of industries. We started in Marlow, Buckinghamshire, where ...