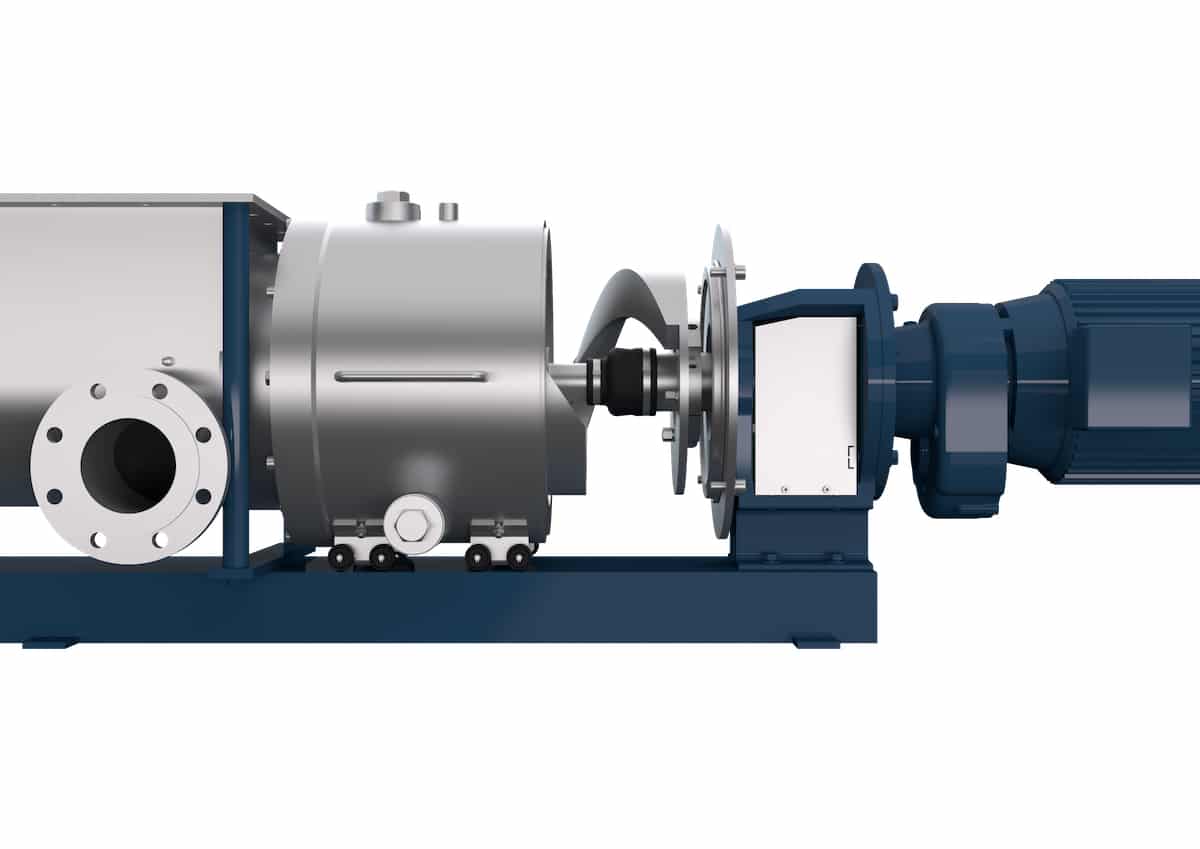 SEEPEX extends smart maintenance concepts with Drive Joint Access for open hopper pumps.
The specialty of open hopper pump design is the conveying of viscous products with little flowability. The maintenance on these kinds of pumps has been time-consuming and complicated in the past due to valves and hoppers obstructing access to the pump.
To solve that problem and significantly reduce maintenance time and costs, SEEPEX is now adding the patented Drive Joint Access (DJA) technology to some of its open hopper pump ranges. Between the feed hopper and lantern, a detachable joint casing mounted on rollers allows access to the drive-side joint. Technicians on site can quickly install or remove the mechanical seal, plug-in shaft and drive – without removing the feed hopper, screw conveyor or rotor-side joint. This simplifies the work involved and reduces maintenance and downtime from three to four days to less than one day, consequently reducing costs significantly. Now, a regular, simple and quick check for preventive maintenance of drive-side components while the pump is in situ is possible at any time.
Depending on the range, it is also possible to replace the ribbon screw without dismantling the feed hopper and compression zone. With DJA, the pump can be dismantled from the drive-side for the first time. The removal of components and the use of heavy hoists are a thing of the past.
DRIVE JOINT ACCESS ADVANTAGES AT A GLANCE
In situ service:
No pipework removal, no heavy lifting equipment
Significantly reduced maintenance costs:
No disassembling of rotor/stator, screw and hopper
Preventive Maintenance:
Regular, easy and quick check of joint side components
Increased uptime:
Pro-active inspection and maintenance of the drive-side parts ensures trouble-free operation
This article is published by
SEEPEX is a leading worldwide specialist in pump technology. Our portfolio comprises progressive cavity pumps, pump systems and Digital Solutions. SEEPEX also offers innovative solutions for the conveyance of aggressive or abrasive media with low to high viscosities. With major technologies, such as the patented Smart Conveying Technology AutoAdjust, ...