SEKO, one of the world's leading dosing pump manufacturers, has drawn upon decades of expertise to develop a new innovative system to help finally solve this limitation – with the groundbreaking technology granted a patent from the World Intellectual Property Organization.
Integrated into the Spring MS1 mechanical diaphragm dosing pump, the Assisted Vacuum Systems (AVS) device seals the rear chamber of the pump with a one-way valve to allow venting of air and generates a controlled vacuum in the back chamber of the membrane.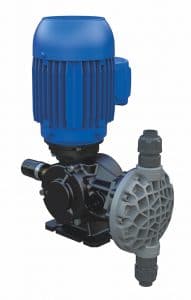 This provides as much as 10% improvement in volumetric efficiency, effectively making the pump self-calibrating and permits a high number of strokes per minute without jeopardising equipment lifespan – delivering performance and efficiency but not the risk of early failure.
The reduced stress on components not only minimizes noise and mechanical stress levels but also means a lower routine maintenance requirement and yet another cost saving for the user.
By solving the familiar issue with spring-return pumps, SEKO helps operators across multiple liquid dosing and transfer applications to significantly improve reliability, efficiency and performance while extending their equipment's operational life.