"With these solutions, we offer an even more comprehensive portfolio to cater to the wide variety of needs customers in process industries have. Their challenge is to find the optimal solution for each application easily and efficiently from a trusted supplier. In addition to compatibility, reliability and performance, we are committed to providing excellence in services and customer support," says Simo Sääskilahti, SVP, valve equipment, Metso.
The new additions to the offering include, for example, Jamesbury® EasyFlow range of valve solutions and Neles® Scotch Yoke actuators.
Reliable performance in standard flow applications with Metso Jamesbury EasyFlow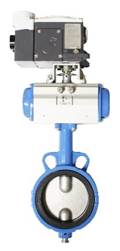 Compliant with common industry standards, the Metso Jamesbury EasyFlow range of valve solutions offers a complete suite of products: ball valves, butterfly valves, rack and pinion actuators and limit switches. Through this offering, Metso can serve new customer applications and industries like water treatment, mining and minerals processing, and the pharmaceutical and food and beverage industries. The high-performance Metso Jamesbury EasyFlow solutions are designed for easy automation and complement the premium Neles and Jamesbury offerings.
Improved reliability in harsh environments with Neles Scotch Yoke actuators
Designed for low friction and a long cycle life, the Neles® Scotch Yoke actuators provide a solution for applications where a mid- to high torque range is required in on/off, ESD or modulating duty. The actuators are highly reliable, with a modular design, and serve a wide range of customer needs, even in harsh environments.