Unlike other flowmeters, measurement accuracy with oval gear devices actually improves as the liquid viscosity increases, from a nominal 1% to around 0.1% of flow rate at higher viscosities.
The OG range of oval gear flowmeters are compact, rugged and deliver unprecedented performance at a low cost of ownership. Available as standard with stainless steel or aluminium bodies, OG flowmeters are bidirectional and available in sizes from 1/4 to 2-inches (6 to 50 mm), for flows between 1ml/min and 500l/min. For applications involving measurement of corrosive or caustic fluids, versions of OG flowmeters with completely non-metallic wetted components (ceramic, PEEK™ and a choice of elastomer) are available. Over recent years, Titan Enterprises has expanded its OG flowmeter range and has supplied special application optimised OEM versions for use at elevated temperatures (200°C) or high pressure (950Bar). Models are also available certified as suitable for use in hazardous areas.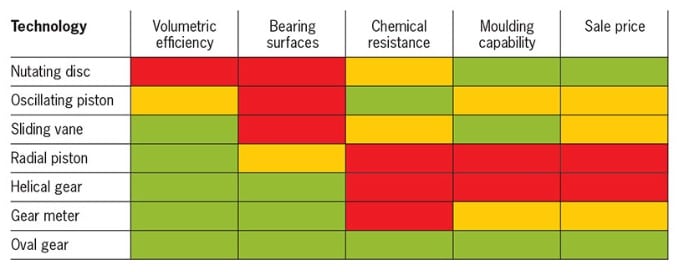 The standard inlet and outlet options for OG flowmeters are BSP or NPT, though alternative versions are available with flanges and female threads. The electronic pulse output signal is transmitted via TTL or contact closure.
Each OG flowmeter supplied by Titan Enterprises is individually flow calibrated and supplied with a traceable flow test certificate.
Drawing upon over 40-years of flowmeter innovation – Titan Enterprises Ltd are a manufacturer of high-performance solutions including the Atrato ultrasonic flowmeter, Oval Gear flowmeters, low flow Turbine flow meters and a flow instrument range. Titan's company philosophy of "pushing the envelope by trying to do things a little different and better" has resulted in sales of over 1,000,000 products into 50 countries worldwide and a repeat purchase percentage of 95%. All flow meters produced by Titan Enterprises are designed and manufactured to ISO9001 and calibrated to an uncertainty of ±0.25%.