As air is being obsoleted by more and more customers these days for many reasons, such as cost, efficiency, functionality, safety, and lower energy usage, the EODD (electrically operated double diaphragm) pump can offer the lowest in class operating costs – and superior durability, if it is constructed of nodular ductile iron and has an efficient motor and pump design. In most cases, this can mean up to 95 percent volumetric efficiency on average compared to any other pump. You no longer need to use electricity to run air to run a pump. A whole other cost center is now removed with only mechanical fluid dynamics to deal with instead of fluid and air.
Simple Solution, myriad Benefits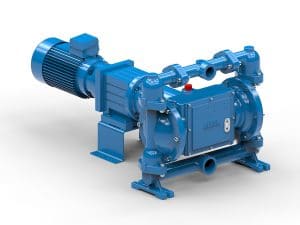 High efficiency electro-mechanical drive and slow stroke rates keep energy bills low and wear parts cost to a minimum. Mechanical simplicity makes seldom needed maintenance a breeze, unlike progressive cavity pumps, gear, rotary lobe, or peristaltic type pumps. A design that offers a robust construction with integral metal core ball check valves and fabric-reinforced diaphragms that offer a smooth mechanically controlled linear drive would prove the most desirable. Large ports, a diaphragm that is to one side of the fluid column offers passive pumping as well that allows for better fluid velocity and more room for the fluid, and therefore is less prone to plugging. Other pumps require tight tolerances simply to operate, and that immediately makes them susceptible to plugging by nature. If it will flow, it usually can be pumped with an EODD pump, even to a range of about 40 percent solids, if it is compressible and will freely flow. Large valve clearances also contribute to this winning equation. True process control is achieved via optional variable frequency drive, technology unavailable in air operated diaphragm pumps. There is no air valve to stick or malfunction in cold and hot weather. Optional discharge dampeners and suction stabilizers are available to minimize flow pulsations under variable or demanding system conditions. A form of flow control would also make this kind of pump a game changer in double diaphragm pumping!
Electrically operated double Diaphragm Pumps
The EODD pump also offers the extreme versatility of operating in duplex mode with two pumps working at the same time – something that an air operated double diaphragm pump cannot do. Since an EODD pump operates by working on a 90 degree out-of-phase design, you can use two pumps in tandem at the same time and not only the traditional lead/lag traditional fashion. This means that you only use one motor, one gearbox, one baseplate, and one manifold piping system – further saving on material, time, money, and even weight as compared to two independent pump systems.
Conclusion
A truly all electric double diaphragm pump with a superior design will provide the very best return on investment that checks all of the boxes when it comes to pump selection and last two to three times longer with better parts wear and less maintenance than air operated double diaphragms.