Monitoring H2S in crude is critical to maintain personnel safety, avoid cross-contamination that effects product quality, ensure compliance with state and federal regulations, and control corrosion.
As many major midstream companies impose H2S limits, the inline H2S in Crude Oil Analyzer provides the information needed to reject crude oil that does not meet quality specifications. Now able to reject off-spec crude, midstream companies can focus on moving as much on-spec crude as possible to terminals in the U.S. Gulf to ship internationally. At the same time, companies accepting off-spec crude oil can use H2S scavenging chemical pumps controlled by the inline H2S in Crude analyzers to increase the efficiency of the scavenging process and avoid overtreatment.
The Model 205 H2S in Crude Oil Analyzer replaces manual grab sampling for lab analysis. This revolutionary inline analyzer is an automated technology that offers repeatability of 1% compared to 30% with manual grab methods. Instead of waiting days for lab results that are often inaccurate, operators get real-time, accurate and repeatable readings.
When serving as part of an automated process, the H2S Crude Oil Analyzer controls an automatic valve that shuts in or diverts the crude oil when H2S concentrations are above specified limits. Therefore, midstream companies avoid receiving crude oil that has higher concentrations of H2S. As hydrogen sulfide is corrosive to pipelines, tanks and other holding vessels, real-time and historical data can prompt companies to treat the H2S before capital-intensive measures are necessary.
How it Works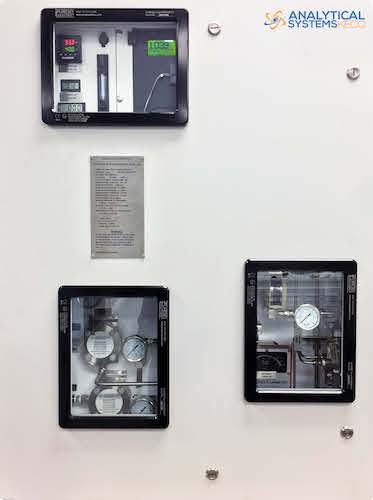 The principle of operation of the inline H2S in Crude Oil Analyzer is based on continuous, free-flowing liquid sampling by a heated Sample Transfer Stripper (STS) unit that separates the liquids from the H2S gas sample. The STS is a very simple device – using 90% few parts than complicated "headspace" stripping column methods – that provides an ultra-clean and dry sample to the detector for analysis.
The H2S-free carrier air sweeps the sample to the detector for quantitative analysis in ppb, ppm, or percent levels. The detection technology is based on chemically-specific density changes and is the only detection method specific only to H2S.
Significant attributes of the Model 205 H2S in Crude Oil Analyzer include:
Precise measurement: It's the only analyzer capable of precise quantitative analysis in ultra-low ppb, ppm or percent levels.
Automated operations. Providing 4-20 mA, RS-584 Modbus, and dry contacts, the analyzer provides all the signals needed by automation engineers.
No field calibrations. The analyzer does not require calibrations in the field even with unexpected process changes.
Ultra-low maintenance. Advanced Colorimetric-Rateometric Detector is guaranteed hassle-free for long term "hands-free" operation.
Dependable operation. ASI Membrane Technology eliminates liquid carry-over that plagues the antiquated and problematic headspace sampling systems.
Successfully implemented in hundreds of applications worldwide, the Model 205 H2S in Crude Oil Analyzer is gaining popularity with U.S. midstream companies who are installing them on both their low and high flow LACT and TACT systems to get automated and real-time H2S readings of hydrogen sulfide to ensure conformance to limits imposed on H2S. For more information.