The $85,000 investment allows the company to test all its rotary packing products and provide data for the relatively new industry standard: EN16752 Centrifugal Pumps – test procedure for seal packings. 
Initially developed jointly by the European Sealing Association (ESA) and the North American Fluid Sealing Association (FSA), EN16752 allows prospective buyers to make valid data comparisons for the first time between packing products from various manufacturers or for two different packing products from the same manufacturer. In the past, manufacturers may have qualified products using proprietary test protocols or estimated performance limit values based on material selection.  
Chesterton will begin testing all of its existing rotary equipment packing according to EN16752 and begin making data available to its customers later in 2020.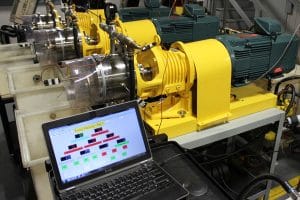 Each Chesterton simulated pump rig is equipped to monitor fluid pressure, gland and fluid temperature, power consumption, shaft speed, and leakage rate continuously via a digital data acquisition system. Each stand is fitted with a 15hp motor and variable speed drive to allow fine-tuning of shaft speeds for any configuration used. Leakage rates from the stuffing boxes are collected and measured automatically for the duration of the test.
"This new level of test equipment allows us to conduct more rigorous testing and test remotely around the clock," says Thiru Veeraraghavan, Chesterton's Vice President of Engineering and Innovation. "We require three consecutive tests to establish packing benchmarks, and this system lets us accomplish that much faster.
To broaden the capability of the rigs beyond the parameters defined in EN16752, each unit in the Chesterton lab can be fitted with one of three interchangeable stuffing box modules to allow testing of different-sized cross-section of packings under a broad range of test conditions. The rigs can be used for limit testing pressures up to 500 psi and speeds of 5,000 rpm. They can be set in any combination below these limits, allowing for testing of application specific conditions or pushing packing performance limits.
For more information, contact:
Engineering Contact: Phil Mahoney
Director of Engineering Services for Stationary Equipment
Email: Phil.Mahoney@chesterton.com
Phone: 978-469-6836
Marketing Contact: Sharon Raymond
Director of Marketing Services
Email: Sharon.Raymond@chesterton.com
Phone: 978-469-6240