NOVADOS DADD pumps operate reliably under high pressure, high flow transfer conditions, and can handle a wide range of temperatures. Typical applications include polymer injection, methanol injection and hydrocarbon condensate metering. 
Thanks to their double acting head, NOVADOS DADD pumps offer virtually double the capacity of a single acting pump in the same footprint. This is achieved as the displacer suction and discharge stroke operate simultaneously, giving the capacity of equivalent duplex pumps. Footprint and weight are typically in excess of 20% less than equivalent duplex pump heads, making DADD pumps ideal for achieving required pumping duty where space is at a premium.
The pump uses a simple and proven design. A hermetically sealed diaphragm separates and protects the moving parts of the DADD pump from the pumped liquid. It is pushed backwards and forwards by hydraulic fluid and, as it moves backwards, it increases the volume inside the pump chamber. This creates suction which opens an inlet valve and allows fluid into the chamber. As it is pushed forwards again the chamber volume is reduced, opening the outlet valve and pushing the fluid out again. The inherent safety of this diaphragm design protects against hydrocarbons or chemicals escaping, which both protects the surrounding environment and helps to keep operating personnel safe.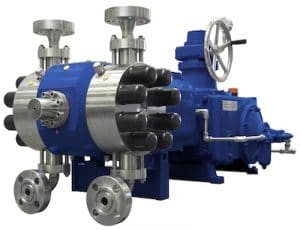 The lack of moving parts means the NOVADOS DADD pump provides quiet, energy efficient operation. Once set to a given flow rate and pressure, operation is simple, and no further adjustments are required. As fewer parts are exposed to the pumped fluid, the overall reliability and availability of the pump increases. Dependent on the criticality of the process, use of DADD technology can even negate the need for a duty/standby configuration. 
The Bran+Luebbe NOVADOS DADD pump range can accommodate flows between 0.4 l/h up to 20,000 l/h on a single head, with operating pressures of up 1,000 bar. Gear sizes can be combined to achieve the required flow rate and pressure parameters for individual applications.