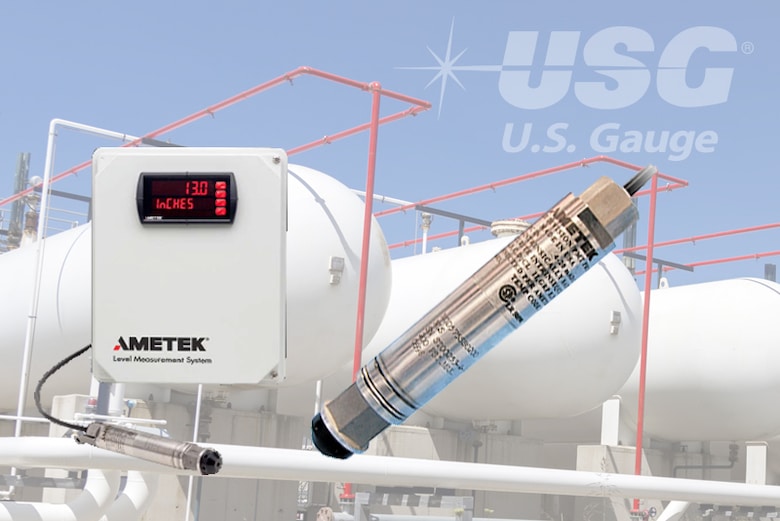 HORSHAM, USA – Within the oil and gas industry, critical equipment responsible for a variety of crucial tasks run on diesel fuel. Caring for this equipment is a full-time position, as any downtime could drastically affect operations, costing time and money. However, assuring that this equipment always has the fuel needed to run correctly is an easily attainable task by using the correct instruments.
AMETEK STC offers the liquid level equipment needed to solve this issue in its U.S. Gauge models of level transmitters. The Model 575 intrinsically safe level transmitter and the Model DDMC meter/controller can continuously monitor the fuel level in diesel storage tanks. The Model 575 level transmitter is placed in the liquid, and an optional conduit adapter is used in the tank to protect the cable. The Model DDMC meter is used to power the Model 575 transmitter through approved electrical barriers. The DDMC also provides a continuous display of the level in the tank.
The Model 575 submersible level transmitter is a hydrostatic level product for quick, reliable level measurement. It comes standard with CSA Intrinsically Safe approvals for many different level monitoring needs including lifts stations, inventory tank measurement, ponds, lakes, rivers, landfills, reservoirs, or any type of water treatment facility including power plants, steel mills, mines, industrial chemical plants, refineries, and municipal water and wastewater treatment facilities.
The Model 575 indicates level by continuously measuring hydrostatic level pressure via its sensing element and transmitted by a 4-20 mA signal. This design provides excellent linearity and repeatability, low hysteresis and long-term stability. To install, simply lower the transmitter into the tank, well, or vessel. The Model 575 has a measuring range of up to 690 feet, but can go in much deeper wells if needed, with thousands of feet of cable, as long as the actual measuring range is 690 feet or less.
The Model 575 and other liquid level transmitters from U.S. Gauge are in stock and available for quick delivery on their webstore: www.usgauge.com. The webstore includes easy-to-use part builders, tables, and comparison pages to help users make an informed decision in minutes.
This article is published by
AMETEK Drexelbrook is known throughout the world as a leader in level measurement technology. We've earned our reputation for excellence from over five decades of experience in providing level solutions to virtually every industry including chemical, petrochemical, refining, power, water and wastewater, food, pharmaceutical, pulp and paper, mining, ...