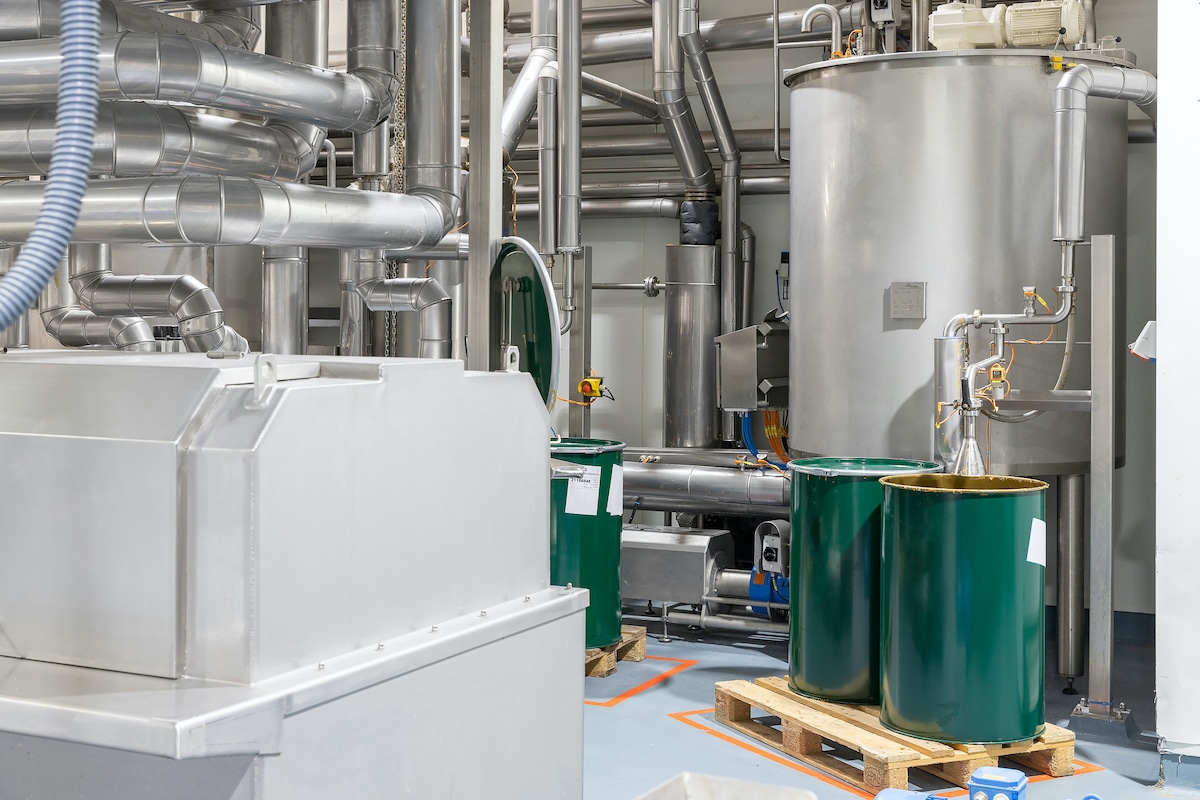 Intersnack produces, packs and sells savoury snacks, including Chio and POM-BÄR crisps, popcorn, nuts and peanut butter. Upgrades to the production lines led to a need for new melting tanks.
Hans Zweers, who has worked in maintenance and production engineering at Intersnack for 39 years, came into contact with Gpi via ST-Project, another business relation: "The initial discussions were promising and there was a good click with Gpi De Gouwe. Their professional approach and knowledge made a good impression, so we decided to order five melting tanks from Gpi."
Melting tanks, storage tanks and process tanks for the upgraded process line
Gpi designed and manufactured five melting tanks (also referred to as melting vats), two storage tanks and two process tanks for the upgrade to the production lines. Solid fats and oils are melted down to a liquid form in the melting tanks to allow mixing with the other product components for producing the product.
Design
Hans was closely involved in the design of the melting tanks. He tells us about the process: "Intersnack was delighted to find out that Gpi had a test line where they could run practical tests on the product components that we wanted to process in the melting tanks. This phase gives you the opportunity of assessing the capacity of a melting tank with your own eyes because you can see how a product component actually melts in practice at a specific power rating and amend the design to suit. What's more, there are no unpleasant surprises afterwards," says Hans with satisfaction.
Successful collaboration
Hans can look back on a successful project: "Gpi did a magnificent job of producing fast, efficient
and user-friendly melting tanks", he says. "The tanks supplied by Gpi have met all our expectations ever since they went into production, and both I and my colleagues who work with the tanks are delighted with the end result. We have reserved space in the production line for a further two melting tanks."
About the customer
This Dutch company, founded in 1977, has expanded through mergers and acquisitions to become today's Intersnack, a large group that develops and produces products in several European countries. Intersnack operates three sites in the Netherlands. Chio and POM-BÄR crisps are produced in Lelystad, Intersnack products are packaged in Hardinxveld- Giessendam and the head office is located in Doetinchem. The production plant in Doetinchem also processes peanut butter and various types of (coated) nut appetisers and ships them to the end customer on behalf of many brands and 'private labels'. The company attaches great importance to sustainability and continuously optimises and invests in its plant and equipment in order to maintain product quality at the highest level.
This article is published by
Over the last 25 years, Gpi has expanded to become an established name in the Dutch engineering industry and singles itself out through constant innovation in technology, process and collaboration. The Gpi Group is comprised of three tank construction businesses - Gpi Tanks Netherlands, Gpi Tanks Poland and Gpi Tanks XL - in addition to Gpi de Gouwe ...