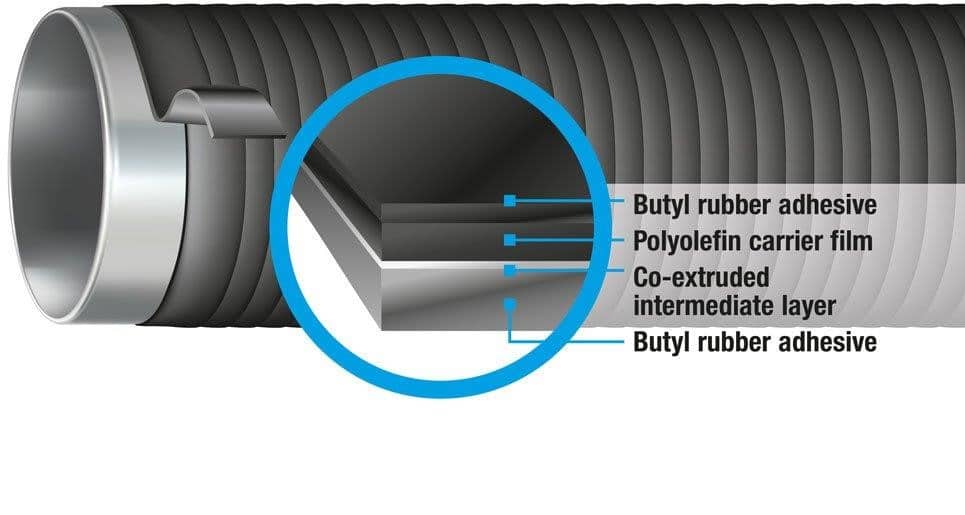 In the past, the composition of cold-processed corrosion protection tapes meant that they were of limited use at extremely high temperatures.
With its new product DENSOLEN®-AS40 HT, DENSO Group Germany is setting a new global standard: Used in combination with a new primer, the cold-processed, butyl rubber-based corrosion protection tape DENSOLEN®-AS40 HT achieves excellent performances: Even at extremely high operating temperatures of up to +100°C (+212°F), the product guarantees reliable protection against corrosive media and mechanical loads after just one wrapping process. The product satisfies the requirements of the ISO 21809-3, type 12A-3 standard after just one wrapping process; a second wrap meets the class C80 requirements of EN 12068 and DIN 30672. DENSOLEN®-AS40 HT boasts an exceptionally high resistance to mechanical loads and is easy to apply thanks to its highly tear-resistant and adaptable carrier film.
DENSOLEN®-AS40 HT has been developed over 5 years–a process that was not without challenges, as the product had to satisfy a number of different requirements. "It was an incredible challenge to create a product that resists to high temperatures and is easy to apply using a standard process –despite the physical and chemical limitations of the raw materials. Essential for the development was the fulfillment of requirements of all relevant standards. Our development engineers did a fantastic job", explains Thomas Kaiser, Managing Director of DENSO Group Germany.
DENSOLEN®-AS40 HT is applied by hand or using a DENSOMAT®wrapping device, which means that it is also suitable for large-scale use for rehabilitation or complete coatings on oil, gas, and water pipelines. The product is outstanding at exceptionally high operating temperatures, such as those in power stations, refineries, and pipeline stations. DENSOLEN®-AS40 HT is also ideal for applications at high ambient temperatures, in areas such as Central Asia, the Middle East, and Central America
"As well as extremely high-temperature stability, DENSOLEN®-AS40 HT also boasts excellent lap shear strength", says Thomas Kaiser. "This is an excellent extension of our portfolio for our customers working in high-temperature applications".As a genuine, co-extruded three-ply tape, DENSOLEN®-AS40 HT creates an outstanding bond between the adhesive and the carrier film. After application, the tape fuses in the overlapping area to form a diffusion-resistant protective hose. The innovative formula ensures that the fused seam can withstand extremely high operating temperatures over long periods of time.
This article is published by
High quality and forward-thinking Made in Germany solutions. - For almost a century, this is the promise DENSO has been making to customers for all corrosion prevention products and innovative sealants for roads, railways, buildings, installations and pipelines. From its roots as a one-family enterprise, DENSO Group Germany has developed into an ...