The design of the impeller greatly influences the pump performance and the types of fluid that can be pumped. The shape, number of blades, dimensions and rotational speed have a major influence on the pump head, capacity and the ultimate efficiency of the centrifugal pump.
There are many different types of impellers for centrifugal pumps. In the overview of impeller pump types, you will find information on the specific properties of the most widely used BBA Pumps impeller models. The major focus is directed at the balance between the free passage, efficiency, maximum head, resistance to wear and performance when pumping air.
Interesting facts about impellers:
Just like car tires, pump impellers must be balanced in order to reduce vibrations in the centrifugal pump.
Quality is in the details. The casting and choice of materials play a role in the pumps performance. A pump impeller with a smooth material structure will have a higher pump efficiency.
In most cases, larger centrifugal pumps with larger impellers will operate with a higher efficiency than smaller centrifugal pumps with small impellers.
Well-designed impellers are fitted with back vanes at the rear. This reduces the pressure on the mechanical seal and reduces axial forces on the bearing.
For pump impellers with a large inlet opening and a relatively small outer diameter, the liquid flow will be large in relation to the pump head.
For impellers with a large outer diameter and a relatively small inlet opening, the pump head will be large in relation to the pump flow.
Pump impellers can be trimmed/machined. For example, in cases where the diameter of the impeller has to be reduced due to the available engine power. If the speed of the centrifugal pump remains the same, the head and efficiency of the pump decreases as the impeller diameter is reduced.
The impeller vanes of centrifugal pumps are designed to rotate in a single direction. If an impeller rotates in the wrong direction, the head and capacity will be much less than if turning in the correct direction.
Is the performance of your centrifugal pump decreasing?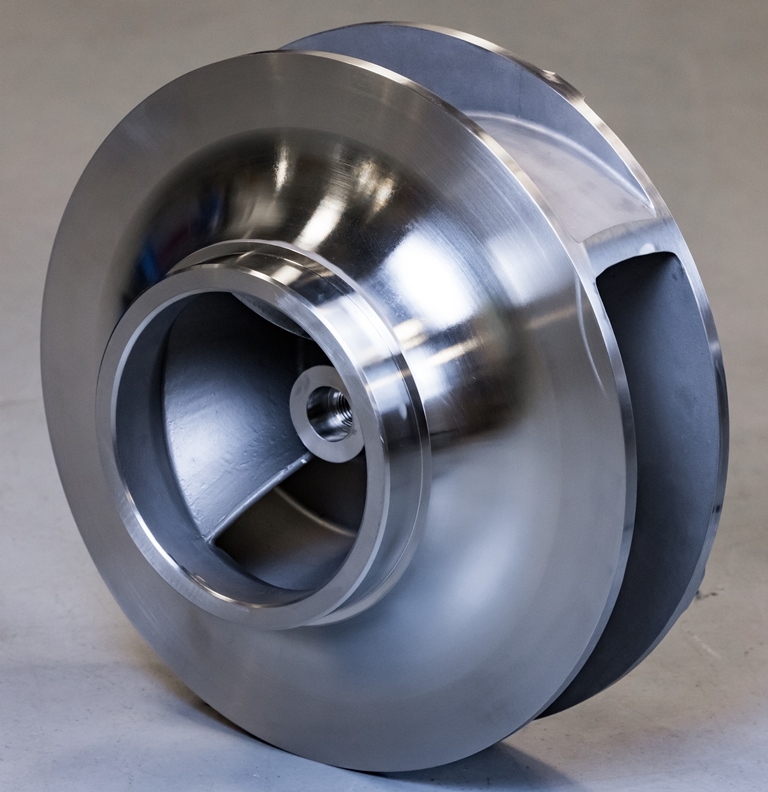 The pump impeller might be the reason for this. A decrease in performance might be due to the wrong rotation direction of the impeller, or a blockage caused by dirt or even through excessive wear. Further, if the clearance between the impeller and the wear plate becomes too great, the fluid will recirculate internally. Air bubbles forming around the impeller or in front of the inlet opening can create conditions where no liquid is pumped at all.
Are you looking for advanced knowledge about pump impellers? Then sign up for a course in pump technology at our training center in Apeldoorn (The Netherlands).