New ANSIMAG ALI Range of Chemical Services Pumps now Available for ISO Applications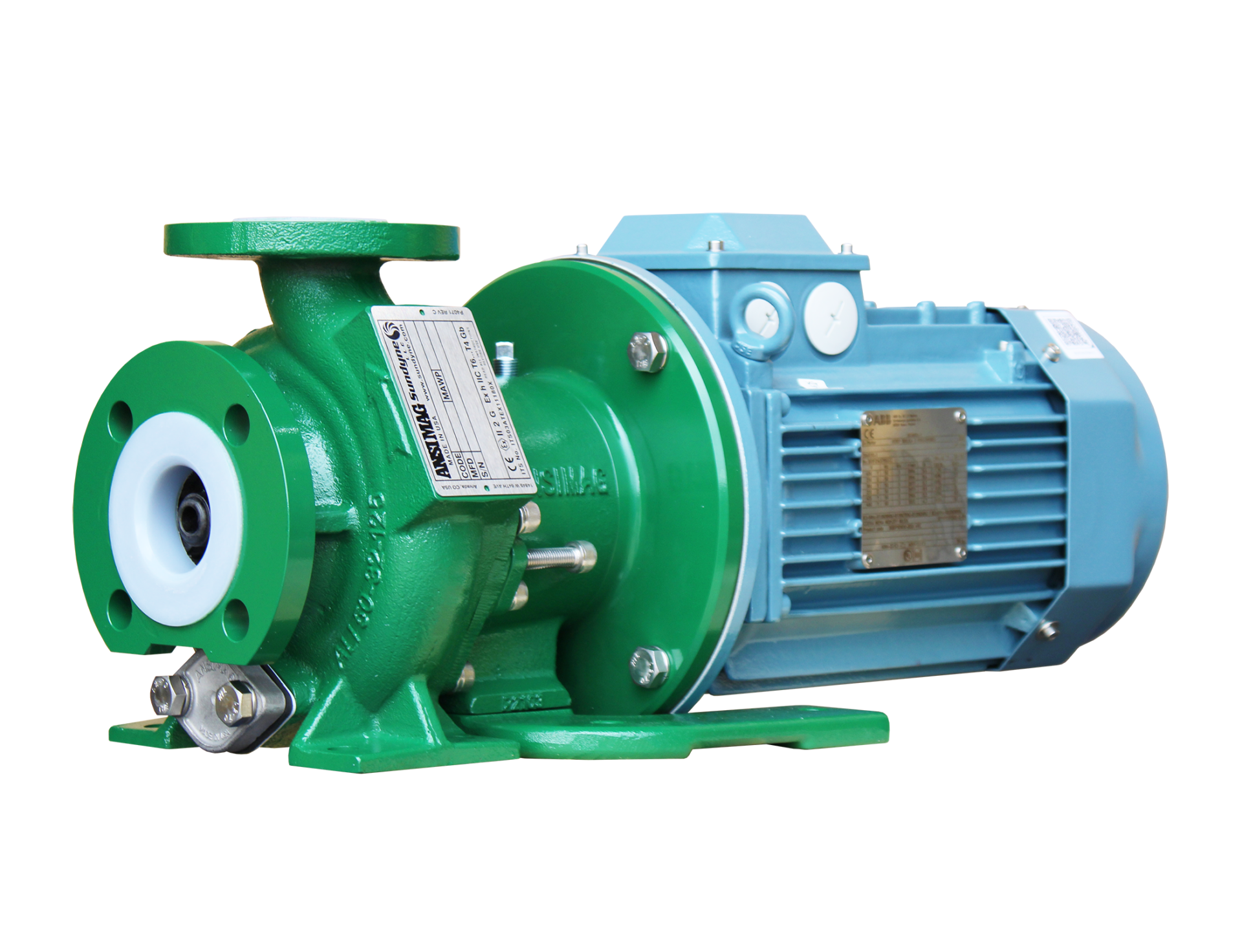 The ANSIMAG family of magnetic drive sealless pumps from Sundyne has been extended with the introduction of a new ALI series of ETFE-Lined sealless magnetic drive pumps which brings all of the benefits of ANSIMAG to ISO markets.
Supporting the dimensional requirements of ISO 2858 with specification conformity to ISO 15783, the latest ALI range encompasses eleven different ISO-compliant pump sizes providing flows of up to 140 M3/hr; Heads to 90m; temperatures from -30 to 1200 C; and working pressures up to 19 bar.
ANSIMAG pumps are specifically designed to handle aggressive corrosive or acidic liquids in chemical processing applications, including Chlor-Alkali, isocyanates, plastics and polymers, battery manufacturing, agrochemicals, and a wide range of water and wastewater applications.
All ANSIMAG wetted parts are molded ETFE (Ethylene Tetrafluoro Ethylene) components that can safely handle a wide range of corrosives and solvents without corrosion. The sealless design ensures zero leakage, providing complete containment with only a single fully contained O-ring. Secondary Containment is also available for applications requiring an additional layer of protection and to ensure compliance with the latest standards.
Close coupling eliminates the need for shaft alignment and bearing frame-related maintenance in a smaller footprint, while the non-metallic Zeroloss containment shell materials completely eliminate eddy current generation, allowing for greater energy efficiency, making the new range a cost-effective whole-life solution.
A patented, fully encapsulated magnetic drive hermetically seals the inner magnets to isolate them from process fluid and maintain magnet integrity for the life of the pump. An aramid fiber reinforced containment shell delivers unprecedented reliability and protection against water hammers.
The ANSIMAG ALI ISO series complements the CSI line of modular metallic sealless magnetic drive pumps produced by HMD Kontro (also part of the Sundyne family). Fully compliant with all ISO standards, HMD Kontron's CSI pumps are now available in a choice of frame sizes to accommodate the new, even wider range of flow and pressure requirements at higher temperatures. The combination of the ALI and the CSI lines offers customers a very wide range of sealless magnetic drive options, manufactured in metal or ETFE respectively, to address any chemical processing applications. All ANSIMAG ALI and HMD Kontro CSI pumps come with the worldwide backing of Sundyne's global support network.
"ANSIMAG ALI sealless mag-drive pumps provide affordable replacement options for aging ISO pumps and the newly-expanded line covers a wide range of sizes and external dimensions to facilitate easy replacements without changing piping or baseplates," said Sundyne's Global Vice President of Chemical and Industrial, Colin Guppy.
"The introduction of the ANSIMAG ALI line brings a rich heritage to ISO markets, and the combination of ALI and CSI offers customers a one-stop-shop for sealless pumps to address any harsh and aggressive pumping application," concludes Guppy.