The pump satisfies all FDA requirements, with full clean-in-place (CIP) capabilities, successfully enabling the Company to export its natural healthcare products to the US and expand their global presence.
Exporting to the US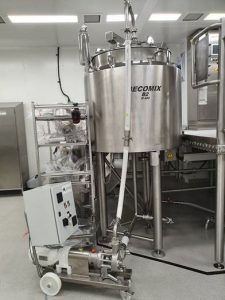 The Company wanted to export its products to the US to expand its global reach. In order to do so, the Company needed to meet all FDA manufacturing regulations and provide the necessary certification for all aspects of its manufacturing process.
The pharmaceutical creams processing presented a problem for FDA compliance as the pump previously deployed was difficult to clean and did not offer appropriate certification. The process required a pump which provided both clean-in-place (CIP) capabilities and the ability to transfer creams slowly to prevent air ingress and shear.
Certification provides confidence
The MasoSine Certa 250 was selected as it both complies with FDA requirements and provides all the required pump functionality. With EHEDG Type EL Class I as well as EHEDG Type EL Aseptic Class I and 3A certification, the pump provides fully accredited CIP capability, satisfying FDA requirements and the natural healthcare manufacturer to target the US market.
Head of Operations at the natural healthcare manufacturer, commented: "As the pump doubles as a high-volume CIP pump, we can now clean the pump and associated hoses with ease. The Certa pump gives us the confidence we need in our manufacturing process in order to offer the highest quality natural healthcare products to US customers."
End-to-end process expertise
In order not to disrupt production, ease of integration into the existing production line was essential. Utilising 60 years' expertise in end-to-end fluid management across a range of industries, the MasoSine Certa 250 pump is designed to fit into any pathway with a range of available ports. This enabled its seamless integration into the pharmaceutical cream process. The pump has successfully been in use for over 18 months.
"The Certa 250 pump integrated perfectly with our existing process, enabling us to progress from conception to validation in under four weeks. Having already used a range of Watson-Marlow products, we were aware of the breadth of their offering and their experience across pharmaceutical and food manufacturing." Added the Head of Operations at the natural healthcare manufacturer.