Luckily, TS Pumps can supply you with a Low Energy Air Pump, typically referred to as LEAP technology, which has been designed to reduce the amount of energy used to operate a Diaphragm Pump. In fact, swapping your standard Diaphragm Pump for a LEAP Pump could save you up to 70% on energy.
After the release of the Committee on Climate Change's (CCC) report on ending greenhouse gas emissions in the UK by 2050, you're probably wondering what exactly LEAP Technology could do to help.
LEAP is a revolutionary technology designed to meet the needs of any customer struggling to meet their required pump needs, however, LEAP technology is more than just a one trick pony and can be used to benefit a whole range of applications and businesses. The technology has been designed to lower the energy required to run an Air Operated Diaphragm Pump, therefore reducing energy costs.
As compressed air can be costly, you're probably wondering how a saving of up to 70% on energy could be achieved! The Diaphragm Pump will work with the same operating principle as a standard Diaphragm Pump, but what sets LEAP apart from a standard AODD Pump is the centre block, which has been designed to produce less friction in the air valve, therefore reducing the operating pressure of the pump. The starting operating pressure of an industry standard Diaphragm Pump is 1.2 Bar, whereas LEAP technology has a starting pressure of just 0.2 Bar, a significant difference.
Is LEAP technology as good as it sounds?
Here's 5 reasons we think it is!
Not only is LEAP Technology available for Plastic, Metal and Sanitary Diaphragm Pumps in the TS Pump range, it can also be retrofitted to Dellmeco and Almatec Diaphragm Pumps.
LEAP is sold globally through a network of pump suppliers and has been a success for many companies.
LEAP Technology provides Diaphragm Pump users with a quality control system; the pump records every stroke during pump operation which means the technology can be used for batching and can be programmed to shut off when the batch has been completed.
The low operating pressure of LEAP results in reduced noise pollution compared with standard Diaphragm Pumps which are notorious for their noise.
The LEAP centre section utilises an air valve that has been designed with an improved life span, able to run in surplus of 200 million cycles.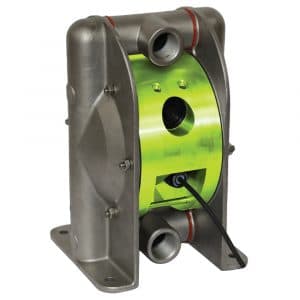 Don't believe us? Believe them! The technology has been independently tested by a large ceramic manufacturer against a leading Diaphragm Pump manufacturer in America. The pump with LEAP Technology consumed only 0,103 Nm3/min, compared with the standard Diaphragm Pump which consumed 0,167 Nm3/min. The company found that if they swapped out their 40 Diaphragm Pumps for LEAP Technology, they could save around 60% on their energy consumption. Yes, it's THAT good!