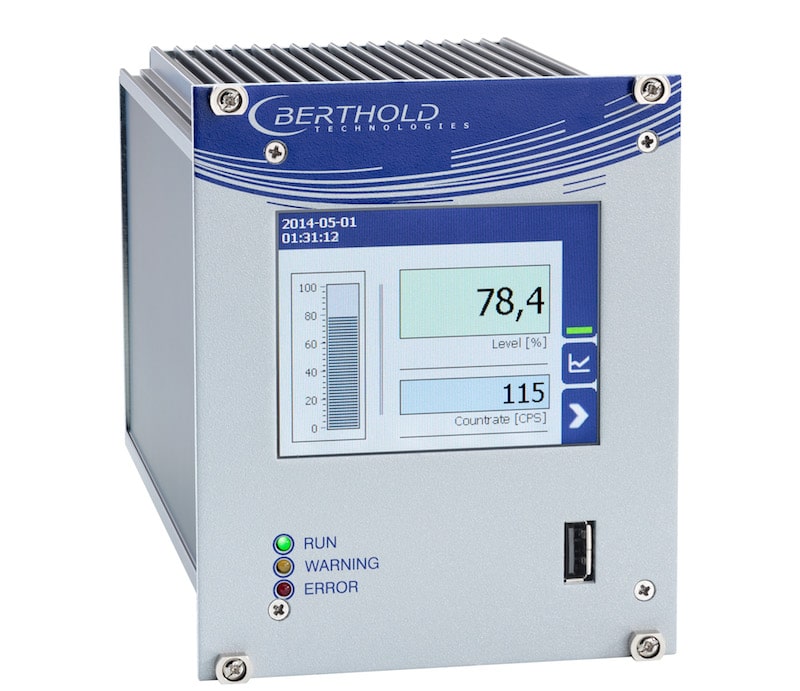 BAD WILDBAD - DuoSeries LB 470 is the radiometric level system from Berthold based on real 2 wire technology succeeding the level transmitter LB 440.
Like its predecessor model, the measuring system DuoSeries stands out by a particularly excellent performance with high accuracy and repeatability of level. Due to its outstanding performance the DuoSeries is the preferred choice when processes are demanding and 2-wire based control room technology is required.
The DuoSeries measuring system consists of a scintillation detector – CrystalSENS point detector or UniSENS rod detector – and a sophisticated transmitter unit for display and operation.
The transmitter is a state-of-the-art control unit with robust 3.5" TFT touch panel, powerful Dual Core CPU and diverse operator interfaces. Advanced self diagnostics and monitoring features ensure a safe function of the system. Furthermore the data logging functionality allows operators to analyze their processes in depth, e.g. develop trends, track process changes etc.
This article is published by
Berthold's knowledge and experience in physics and in the techniques of highly sensitive detection of light, nuclear radiation and microwave frequencies, together with the use of modern electronics and software, allows us to maintain our excellent and longstanding reputation as a competent partner in solving diverse and difficult measurement problems, ...