Maag external gear pumps are corrosion-resistant and electrically heatable, specially designated for small throughputs; they satisfy the stringent quality requirements of today's chemical processing industry and their three-piece design facilitates maintenance and replacement of internal parts, such as gears and bearings.
Thanks to the extensive range of components and materials available, Maag gear pumps can be configured to suit customers specific requirements and are, therefore, far superior to standard pumps in terms of performance and reliability. For applications involving high purity, corrosive, viscous or very hot media, Maag Pump Systems offer the solutions to meet every pumping requirement.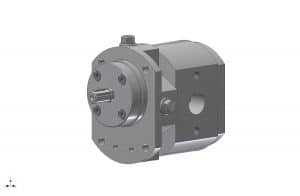 During the development of this series, Maag tested several types of gear shafts in steel and plastics, PEEK and other materials which resulted in different advantages and flexibility. For this new series the new Z16 gear with sixteen teeth can be used for the FX and the Z14 gear with fourteen teeth for the DX.
Key components – gear shaft, bearing and seal – remain the same. Customers can use the new series and still use the existing spare parts.
The pumps are used as: 
Transfer/ loading pump
Booster pump
Metering pump
Spinning or dosing pump
Lubrication pump
Application limits:
Viscosity: 0.1 to 500.000 mPas
Temperature: -30 to 320°C
Suction pressure: from vacuum up to 50 bar
Discharge pressure: from vacuum up to 150 bar
Flow rate: DX 0.25 up to 12 l/min
0.05 l/min with special bearings at low speed!
FX 1.2 up to 139 l/min
Suurmond is official partner for Maag Pump & Filtration Systems in the UK, Ireland and the Benelux countries.