RÜEGER SA has developed new and innovative process temperature sensor based on the combination of a gas-filled thermometer with a high-precision pressure transmitter.
The RÜEGER ThermoHybrid features a customized, Argon-filled gas cartridge as the measuring element, which is connected via a stainless steel capillary to a remote pressure transmitter outputting the temperature value as a calibrated 4-20 mA or digital signal.
This configuration yields a number of very unique features:
The all-mechanical process connection avoids any electric cabling brought into the reactor volume. The remote pressure transmitter is certified Ex ib (zones 1 & 2) and can be located as far as 30 m away from the process connection.
The combination of an almost-ideal gas and the precise measurement of the gas pressure provides an accuracy of the temperature reading which is significantly better than that of thermocouples or a Pt100 Cl.A, and this from room temperature to up to 700°C. For industrial processes, which require redundant temperature measurement principles, but at the same time a Pt100 accuracy, the ThermoHybrid provides a 100% redundancy.
The ThermoHybrid inherently measures the average temperature along the gas cartridge. This cartridge is always customized to the application and can be made to lengths from 30 mm to several tens of meters. It also can be bent similarly to MgO cables. Highly accurate average temperatures across a reactor diameter, or along its circumferences can thus be obtained by one single measurement.
The measuring element of the ThermoHybrid is the argon gas contained in the cartridge, which is in direct thermal contact to the metal cartridge walls. In comparison to MgO sensors (where the thermoelectric junction or the Pt100 element is thermally insulated by the MgO powder), the ThermoHybrid shows a temporal response which is up to 5 times faster than that of a MgO sensor. As a result, the end user is able to operate his process with a much tighter hysteresis.
The long term stability is given by the pressure transmitter of the ThermoHybrid and amounts to a long term drift of the temperature reading on the order of 0.05%, which is about 10 times lower than that of a Pt100.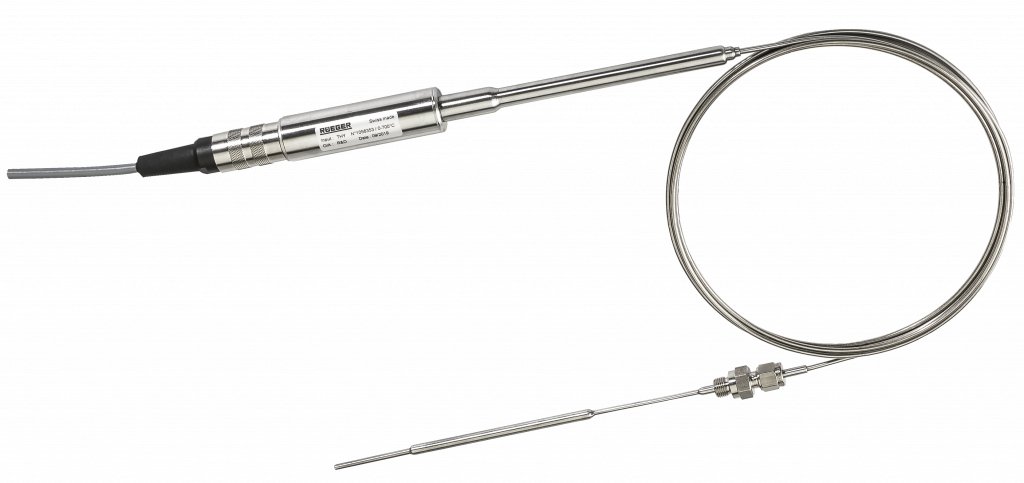 The ThermoHybrid is a temperature sensor intended for applications which lack a solution today, or which have specific requirements where the appropriate application of standard temperature sensors does not yield the required results. This completely new form of temperature measurement technology guarantees a considerably higher process reliability compared to conventional temperature measurement and leads to considerable improvements in production costs.