With the new MAAG innovations, pump types dosixTM and flexinoxTM , Suurmond further extends her portfolio and can herewith satisfy the demand for precise dosing and conveying units even better for a wide range of diversified media.
Due to the chemical properties of the conveyed media, the quality requirements for industrial applications are very stringent and diversified. Thanks to their chemical resistance the MAAG dosixTM and MAAG flexinoxTM gear pumps are used for different chemicals involving highly pure, corrosive, viscous or very hot media, e.g. acids, solvents, molten sulphur, and flavours or fragrances but also for food and pharma processes. The housing cover of both MAAG dosixTM and MAAG flexinoxTM consists of a three-piece configuration that facilitates maintenance and the replacement of internal parts, i.e. gears and bearings.
MAAG dosixTM – the new dosing pump
The MAAG dosixTM is corrosion resistant and electrically heatable especially designed for small throughputs. The superior dosing precision of the pump makes it an ideal solution for applications such as flavours and fragrances that require the accurate dosing of low viscosity scent and aroma components. The new dosixTM is available in five different sizes.
MAAG flexinoxTM – the new conveying pump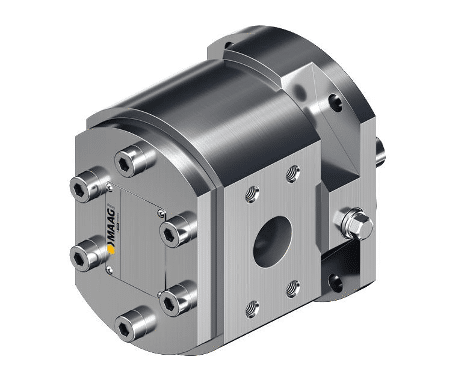 The MAAG flexinoxTM gear pumps are also corrosion resistant and can be heated, either electrically or by fluid. The flow rates are higher compared to the dosixTM and the application range is extended to resins and various plastics, e.g. precursors of carbon fibres. The new MAAG flexinoxTM is available in four different sizes.