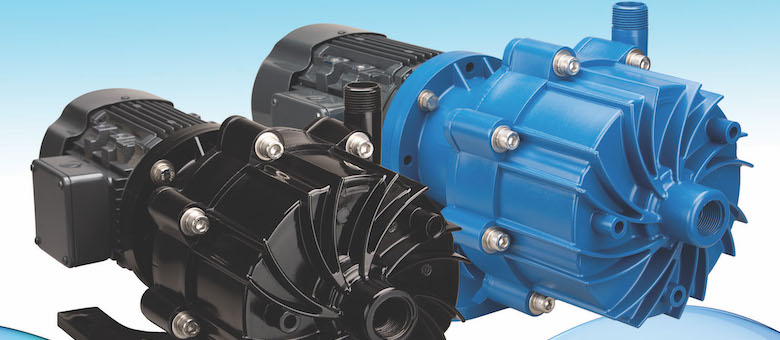 The established and successful Finish Thompson DB Series range of leak-free, magnetically driven centrifugal pumps has been extended following the addition of 2 new multi-stage pumps.
Available from pumping specialists MICHAEL SMITH ENGINEERS these new models have 2 impellers (the MSDB2) or 3 impellers (the MSDB3). This means they can generate more pressure at low flows, which means in some applications they can be used as a smaller, less expensive pump.
Available in a choice of polypropylene or PVDF, the MSDB pumps are ideal for low flow / high head pumping applications, covering flows to 16 m³/hr and differential heads to over 60 meters with minimum flow capabilities as low as 5 lit/min. In addition to the benefit of higher pressure / at lower flow performance, these new models offer the important advantages of DB pumps thanks to their magnetic drive technology; no seals to replace, and zero leakage.
They feature Neodymium-Iron-Boron inner magnets which are acknowledged as one of the most powerful and efficient magnetic materials available, completely encapsulated in unfilled polypropylene or PVDF for superior magnet protection and outstanding chemical resistance. The outer drive allows measurement-free to drive installation for perfect magnet alignment and therefore maximum power transmission.
A wide variety of optional components and materials are available to suit more demanding applications and when fitted with chemical grade carbon bushing, DB pumps can be a dry-run for extended periods without damage as the temperature of the shaft remains cool for hours. Shafts are available in high purity alumina ceramic, Hastelloy® C, or SiC.
MSDB pumps can be mounted to NEMA and IEC motors and a variety of connections including NPT or BSP threads, adjustable flanges or union fittings make it easy to connect to most process systems, reducing installation time and cost. A vertical installation is also an option with IEC motor frames.
Typical applications for these new models include chemical transfer and processing, electroplating, water & wastewater transfer, circuit board manufacture, and pharmaceuticals. ENDS
This article is published by
Michael Smith Engineers Ltd was formed in 1971 as a specialist pump distributor.  We have our head office in Woking and a sales and support office near Leeds, allowing us to provide service and support to customers throughout the United Kingdom. Michael Smith Engineers Ltd is managed by Sam Smith and Jason Downing. The rest of the team includes ...