This also includes thermal cracking of hydrocarbons. In this process, raw products are extracted for refinement into plastics, paints and solvents. The process requires pumps for high-pressure water injection. To handle this task in the future, a total of five plunger pump skids should be brought into operation. Those in charge of the project opted for three triplex and two quintuplex plunger pumps in accordance with the API 674 standard. These pumps are equipped with the new KMC-L pump head with reduced clearance volume. This head consists of a single forging: The suction manifold is integrated as a result, allowing for a reduction in the sealing surface and thus in any potential leak points. An additional advantage is the fact that the suction side can be designed to handle back pressure, eliminating the need for a safety valve in the suction line. The new design makes it possible to realize pressures up to 1,075 bar. All pumps in use have been produced in Germany and mounted to a complete system in the Chinese plant.
"It was our largest order in the fourth quarter of 2016. A major Chinese oil company with more than 260 billion dollars in revenue ordered a total of five API 674 plunger pump skids," – reports Harry Wang, Managing Director of LEWA Dalian.
The purpose of the skids is to be used for high-pressure water injection at a refinery. The order included three triplex and two quintuplex plunger pumps with a drive output of 260 kW and a flow rate of 25 m3/h. The desired discharge pressure was at 160 and 183 bar, respectively.
Safe operation and easy maintenance thanks to an improved design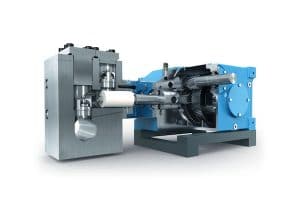 "LEWA has featured plunger pumps in its product range as a supplement to diaphragm pumps since 2010. They are sold worldwide, primarily in the process industries and in the oil and gas industry," explains Claudia Schweitzer, Product Manager at LEWA GmbH from Leonberg. "LEWA plunger pumps are used in these industries for non-critical media and where high hydraulic output is required." In these applications, they stand out in particular for their integrated gear, which enables a compact design that takes up minimal space. Thanks to double helical gearing, both the crank and pinion shaft are practically free of any axial load. The smooth transmission of force results in a low-noise operation and extended service life. The housing of the drive unit is divided, making maintenance and mounting easier. Many additional advantages are offered by the innovative pump head design: The suction pressure loss of the pump heads is very low, therefore a low suction pressure is needed and it is often possible to operate without a booster pump. A leakage return line from the packing to the suction side ensures that operation has as little leakage as possible. If the process requires, the pump can be equipped with two sealing rings and installed with a flushing or sealing system so that any leakage during operation are entirely prevented.
The pump head recently received a completely new design as part of a standardization project. Now the most well-proven technologies from four existing pump head designs have been combined into one model. The new KMC-L type, which is used in all five pumps ordered, consists of just one single forging. As a result, it is exceptionally rugged and features just a few sealing surfaces, reducing maintenance times and limiting potential leakage points. Thanks to this design, pressures up to 1,075 bar can now be achieved easily. In addition, the new pump head features a modified material selection that enables fluids to be pumped at temperatures up to 200 °C. The redesign reduced clearance volumes in the working space, increasing the efficiency of the pump as a result. In order to further decrease maintenance times, the valves have been arranged vertically, ensuring easy installation and removal and making it unnecessary to dismantle connected pipelines. Even the stuffing box is maintenance-free. Re-tightening and adjustment of the packing is not necessary, since the plunger sealing set—just like the additional sealing rings—is fixed in the stuffing box.
"Made in Germany" – in China, too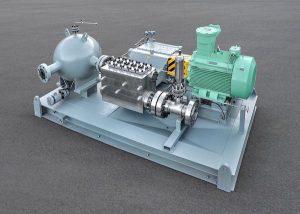 "Many Chinese customers value pumps 'Made in Germany'," Wang states. "For this reason, we developed a cooperative design and production concept between LEWA GmbH and the Chinese subsidiary." In concrete terms, this means that, as early as the sales phase, the pumps are being planned and designed in close collaboration between Germany and China. Here, LEWA Dalian assumed project responsibility and project management throughout the process. The pumps are produced in Germany, while LEWA Dalian handles ordering additional system components such as couplings, motors, dampeners, pipelines and fittings. After delivery of the pumps, they are mounted in the Chinese plant on a base plate in accordance with customer requirements. In this way, a major portion of the value creation happens in China, making more attractive quotes possible and giving the customer fast and easy access to services and contact persons in the local language. The close collaboration also has internal advantages. LEWA GmbH provides support to LEWA Dalian allowing the branch to benefit from the expertise of its German parent company and to expand its own skills.
A perfect example of this setup was mounting the pumps on the customer-specific skids after successful delivery by LEWA GmbH. This took place right at the Chinese plant. The dimensions of the finished skids were approximately 4 x 2 x 1.5 m. Before delivery to the customer, the systems were tested on-site in order to guarantee correct function. "Acceptance testing always takes place in accordance with the testing requirements of API 674. These testing requirements include a mechanical run test atrated power with a duration of at least four hours and a performance test, where various speeds and pressures are tested," says Schweitzer.
An additional part of the order included two pulsation studies, which were carried out by LEWA. Here, 1-D CFD was used to simulate the pressure pulsations to be expected in the pipeline network. This simulation was compared to the criteria of API 674. If the criteria are exceeded, then further installations such as pulsation dampers, orifices etc. are discussed in collaboration with the customer. The goal is to recognize critical operating states before commissioning and to implement corrective measures.
"The close collaboration between the German headquarters and the Chinese branch turned out to be a model of success. We are glad to have had the chance to offer our customer the entire range of benefits through this project," – Schweitzer concludes.