FLEXIM is proud to offer the invasive Mass Flow Meter PIOX S that measures from the safe side, the outside of the pipe.
As the ultrasonic transducers are mounted on to the outside of the pipe wall, the measuring system is not exposed to any wear and tear by the medium flowing inside and is thus operating virtually maintenance-free.
In addition to that, there is no need to open the pipe when installing the system and therefore no interruption to production, processing or supply.
Due to these intrinsic advantages, the use of the PIOX S Mass Flow Meter is especially the measuring system of choice when dealing with highly corrosive or toxic media, such as acids and caustics. Conventionally used inline mass flow meters, such as Coriolis systems, face the risk of premature failure at such challenging applications – especially within the Fertilizer Industry and the measurement of nitric acid as seen at many PIOX S customers who previously used Coriolis systems.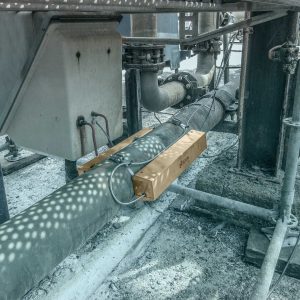 Moreover, PIOX S fits to all pipe sizes and materials making the system highly cost effective – not only at small line sizes, but especially at bigger pipes. Further PIOX S does not require any process shut-downs or bypass lines for installation and is easily installed by just one technician.
Besides measuring the Mass Flow, PIOX S also outputs concentration and density of the medium flowing inside. In conjunction with the patented transducer mounting fixture WaveInjector, PIOX S can also measure at extreme pipe wall temperature ranges from -190 °C up to +600 °C.
This article is published by
As the technological leader in the field of non-invasive ultrasonic flow measurement with ultrasound, FLEXIM continuously sets standards. Our clamp-on ultrasonic measurement systems FLUXUS measure virtually anything that flows, liquids as well as gases. Today, non-invasive, ultrasonic flow measurement is only an outsider measuring technique in the technical ...