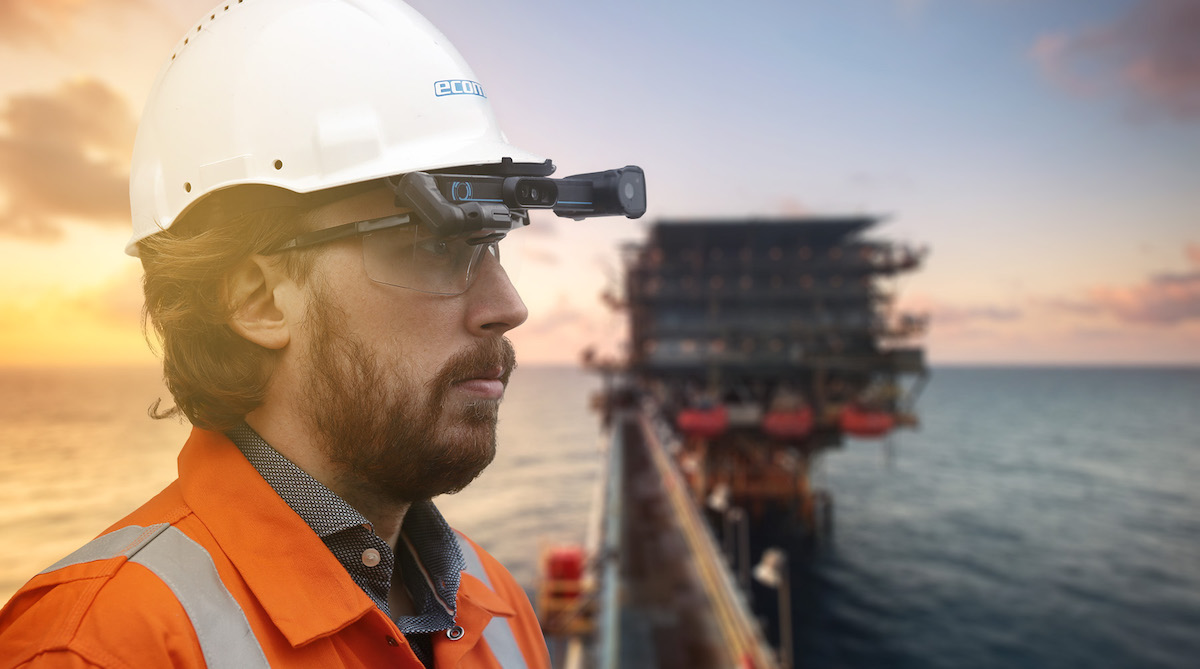 For smart devices, use in the oil industry, for example on an offshore oil platform, represents a real endurance test. The Pepperl+Fuchs brand ECOM Instruments subjected the Visor-Ex® 01, the first system consisting of smart glasses and smartphone certified for use in hazardous areas, to this endurance test during its development phase. The practical test reveals great potential for rollout in future applications.
Inhospitable environmental conditions, confined spaces and limited WLAN connectivity – the offshore oil and gas industry with its remote drilling rigs is not the easiest place for digitalization. The stringent requirements for hazardous areas further restrict the choice of smart devices that can be used. This is a reason why, up to now, the staff on oil platforms often works with pen and paper. For example, to provisionally document inspection results before manually transferring the data to digital files at a computer desk. For mobile workers, this practice is associated with traversing long distances along the multilevel oil platforms. So, there is great efficiency potential waiting to be tapped in the oil and gas industry, particularly in the area of knowledge management.
Smart devices for extreme conditions
Another special feature of drilling rigs is that the hazardous areas can change depending on current conditions. So the highest level of protection is essential for the equipment used. Since crews on an oil platform should be kept to a minimum for safety, cost and time reasons, remote support solutions for maintenance and repair are becoming increasingly attractive. Currently, oil and gas Industry is looking for suitable digitization solutions to ensure real-time knowledge transfer for employees and to accelerate the first-time fix. With up to 10,000 maintenance activities per month on the oil platform, streamlined processes are a significant factor to ensure efficiency.
That's why a company in the oil and gas value chain started its search for suitable smart devices to help digitize processes. In addition to remote support, the most important application scenarios included data harvesting, for example during inspections or for the upcoming general storage system overhaul. Potential devices had to meet a number of requirements in order to make it on the shortlist. Wearables were of interest because they allow hands-free work – this is essential, since mobile workers must be able to safely navigate long distances along steep staircases. Global certifications such as ATEX or IECEx are mandatory to enable safe use. In addition, the devices had to be comfortable to wear, i.e. not too heavy or bulky.
Visor-Ex® 01 smart glasses in a practical test
The company also subjected the explosion-proof Visor-Ex® 01 smart glasses from the Pepperl+Fuchs brand ECOM Instruments to an extensive practical test on a drilling rig. The lightweight wearable (180 g) combines high camera quality and reliable communication features in an ergonomic design. Coupled with the intrinsically safe smartphone ECOM Smart-Ex® 02 as computing unit with reliable LTE connectivity and a pocket device with replaceable battery for power supply, the smart glasses become part of an intelligent ecosystem. A total of three integrated and suitably positioned cameras transform the Visor-Ex® 01 smart glasses into a bionic eye, with the help of which remote support workers can observe the situation from a natural perspective and an unrestricted field of vision. All these features help to implement remote support scenarios without unnecessary complication, even under challenging environmental conditions. During the field test, the company was in close contact with the development team at ECOM Instruments, and the feedback contributed the smart glasses development.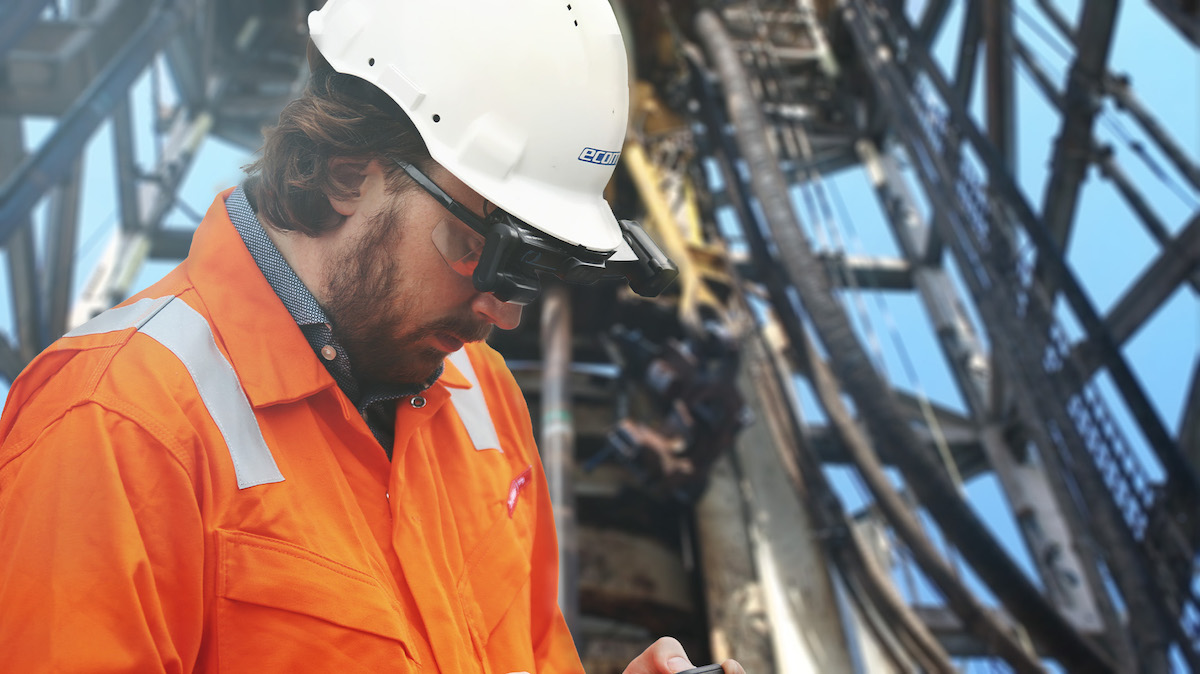 Experience and future application scenarios
Visor-Ex® 01 was able to demonstrate its strengths during the field test, particularly in the area of data harvesting. With the help of cameras and image processing, QR codes from devices and machines can be read to gain access to sensor data such as pump pressure. This opens up a wide range of possible IoT application scenarios. But smart glasses are already scoring points because they improve the documentation of incidents not only quantitatively, but also qualitatively. Mobile workers can not only note down the causes of malfunctions, but also enrich the information with photos or video recordings. The digitized information can then also be shared with external support experts or employees on other rigs or at the company's headquarters – for comprehensive, up-to-date knowledge management. They also don't have to rush from the scene back to the computer or decipher handwritten notes.
The freedom of movement and vision that mobile workers gain from using smart glasses proved to be one of the other advantages. Because their hands are free, employees can move safely and freely up and down the stairs of the multilevel rig while fully concentrating on their task. Furthermore, they can make all the configurations they need on the associated smartphone and use the smart glasses as an optional augmented reality layer. When not in use, users can conveniently fold the OLED display of the Visor-Ex® 01 out of their field of vision and gain an unobstructed view of analogue reality.
Overall, the testing company attests the Visor-Ex® 01's versatility and good usability, even at the prototype stage; the intuitive operation was particularly emphasized. In the short term, the most obvious use scenario for the smart glasses is remote support during inspection and maintenance.
The stable LTE connectivity of the ECOM devices facilitates communication with external experts. This point is particularly worth emphasizing, since WLAN cannot be relied upon in every area of a drilling rig. In the medium term, the augmented reality functions could also significantly facilitate the onboarding of new specialists on the drilling rig. During a tour of the most important areas, for example, the relevant information or efficient routes could be shown on the OLED display of the Visor-Ex® 01 – or a connected expert could communicate via the integrated loudspeaker and describe what to look out for in certain areas. The ability to retrieve data quickly and easily from various sources (data harvesting) lays the foundation for sophisticated application scenarios for smart glasses. 
This article is published by
ecom instruments is an innovative company which is characterised by its integrity, professionalism, high levels of expertise and reliability in realising demanding projects in the field of explosion-shielded products. Your requirements are accommodated by our employees around the world. We regard ourselves as a partner to customers from the most diverse ...