To prevent plant downtimes or failures in areas where an explosive mixture of air with flammable substances can arise, technicians must react flexibly and safely to all requirements in production. To do this, they need technical expertise and decision-making powers on the one hand, and mobile devices on the other, which support all digital workflows such as data harvesting, predictive maintenance or remote support even in harsh industrial environments and also ensure the safety of the mobile workers.
Mobile toolkit for the smart factory
With the Smart-Ex® 02 smartphone, the Pepperl+Fuchs brand ECOM Instruments offers an equally versatile and robust mobile device with IP68 protection. The Smart-Ex® 02 not only represents a proven generation of robust, intrinsically safe smartphones for ATEX/IECEX Zone 1/21, but also the generation of the Android Enterprise Recommended Standard. In addition to a wide range of global and country-specific safety certificates, the Smart-Ex® 02 has a large 5-inch multi-touch display and numerous innovative and powerful features. The future-proof device with a long-term service concept and three-year warranty masters even the most demanding digitisation tasks.
With reliable connectivity and powerful features, the intrinsically safe Android smartphone gives mobile workers unlimited flexibility on their missions – even in hazardous areas like Division 1. Reliable connectivity is guaranteed with 21 LTE frequency bands, Wi-Fi with 2.4 and 5 GHz support and Bluetooth even in remote areas. This facilitates sharing fields directly in the field, as well as live-streaming videos, e. g. in remote assistance scenarios. With a 12-megapixel back camera with LED flash and a 5-megapixel front camera, technicians can enrich the digital documentation of their mission with high-resolution image and video material. They can also access plant data via the barcode reading function. This digital knowledge management helps to shorten the time of maintenance operations in the smart factory and to eliminate sources of error.
Safety and ease of use in hazardous areas
With the smartphone, ECOM Instruments aims to ensure the safety of the mobile worker as well as IT security. With programmable buttons, an alarm button and push-to-talk (PTT), mobile workers can quickly request assistance in an emergency. Samsung Knox with regular security updates protects the system and keeps it up to date. The Smart-Ex® 02 is also physically protected all around and designed to make even tricky operations as comfortable as possible. The shock- and scratch-resistant, high-resolution 5-inch touch display made of Gorilla Glass can be operated intuitively even when wearing gloves. Thanks to a replaceable battery with 4,400 mAh and a runtime of up to 24 hours, the smartphone can easily cope with "overtime". Through a wide range of mounting accessories as well as peripherals, industrial companies can individually adapt the Smart-Ex® 02 to their specific application scenarios.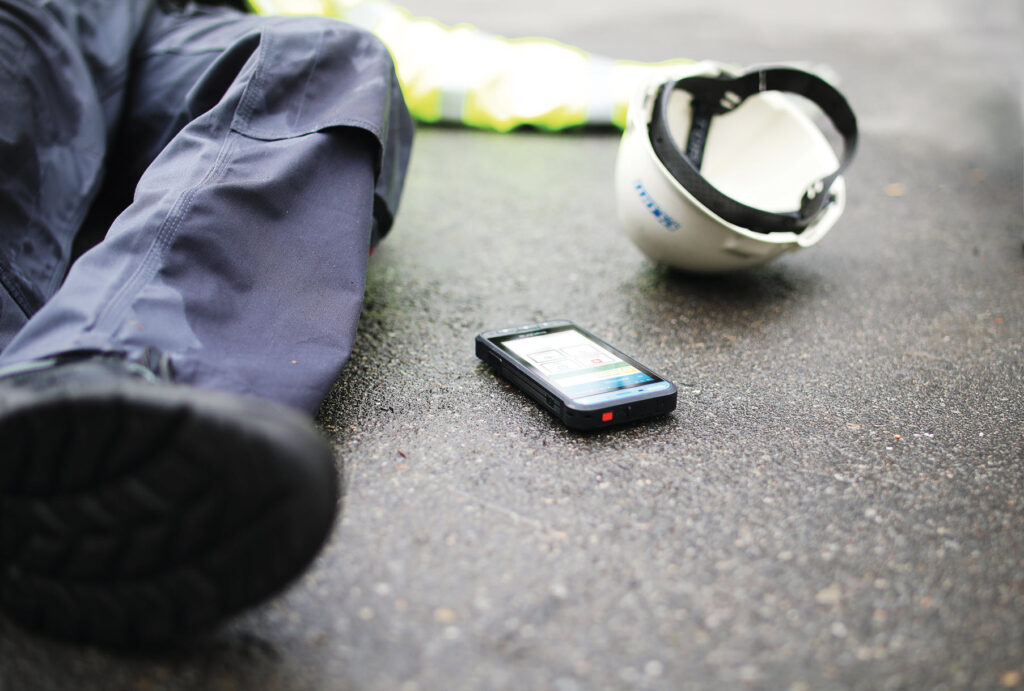 Smart-Ex® 02 and Visor-Ex® 01 – unbeatable duo for Industry 4.0 applications
As convenient as the smartphone is to use, mobile workers often need free hands in addition to digital support during complex operations. That's why the tried-and-tested Smart-Ex® 02 serves as an optional computing unit for the intrinsically safe Visor-Ex® 01 smart glasses. The intelligent new ecosystem of smart glasses, a smartphone and a pocket power supply unit is the first of its kind to be certified according to ATEX and IECEx.
TTe modular combination of smartphone and smart glasses gives employees the greatest possible flexibility in their assignments. They can switch seamlessly between tasks on the smartphone display and hands-free work. For example, the mobile worker can view mission-relevant documents such as checklists via the proven Smart-Ex® 02 and then switch to hands-free mode. The OLED display of the Visor-Ex® 01 shows the information required for the task directly in the field of vision. Via the integrated microphone, the mobile worker can send commands to the device or communicate in real time with remote support experts. If necessary, the display of the ergonomic Visor-Ex® 01 can be folded completely out of the field of vision.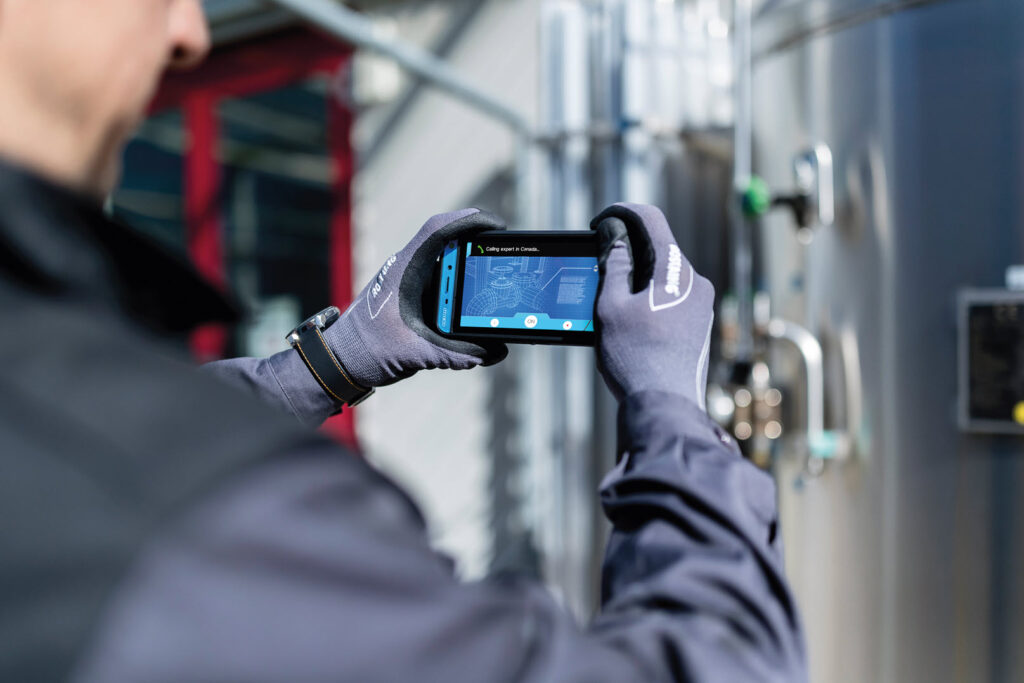 At any time, the technician can carry out the associated documentation directly on the smartphone and supplement this with photo or video recordings. For this purpose, two 16-megapixel cameras are centrally positioned in the Visor-Ex® 01 to depict the wearer's natural field of vision – particularly important for "see what I see" video streams for the remote support. A secondary camera with 6x optical zoom allows for the scanning of barcodes and QR codes, for example to harvest identification or diagnostic data of individual machines.
As part of the overall Smart-Glasses concept, the Smart-Ex® 02 underlines the versatility of a true all-rounder for demanding industrial use. Thanks to this powerful smart device, digitalisation does not have to end at the threshold of a hazardous area.
This article is published by
ecom instruments is an innovative company which is characterised by its integrity, professionalism, high levels of expertise and reliability in realising demanding projects in the field of explosion-shielded products. Your requirements are accommodated by our employees around the world. We regard ourselves as a partner to customers from the most diverse ...