Through its Bran+Luebbe brand, SPX FLOW specialises in the development of metering pumps and chemical injection systems that ensure the precise and safe delivery of high value chemicals whilst meeting customer specifications for space and weight. 
The innovative Bran+Luebbe Novados double-acting, double diaphragm (DADD) metering pump for chemical injection applications harnesses proven technology to reduce the size and weight of a pumping installation while ensuring safe, reliable, efficient performance. It provides the capacity of equivalent duplex pumps but significantly reduces the cost, footprint and weight.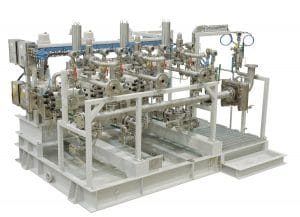 The DADD is based on Bran+Luebbe's proven Novados diaphragm pump technology, giving assurance of performance and reliability while helping to address the physical constraints encountered on offshore platforms. It also reduces lifetime maintenance costs through the use of a single gear, rather than the two gears required in traditional arrangements.
The diaphragm technology used in Novados metering pumps offers additional safety features with a configuration that is designed to provide hermetically sealed handling of hazardous and dangerous chemicals. The inherent accuracy of diaphragm technology also assists in reducing raw material costs and increasing pumping efficiency in high flow, high pressure applications. These characteristics are particularly useful in certain applications: for example, in optimising the amount of high cost polymer used in EOR polymer injection. Bran+Luebbe pumping technology also ensures gentle transfers of the polymer fluid, preserving its bonds and helping to maximise EOR efficiency.
The full package
The Novados pump's potential benefits can be fully optimised when it is incorporated as part of an integrated chemical injection system. These systems can be designed to deliver precise amounts of chemicals, including antifoam, corrosion inhibitors, demulsifiers, glycol and polymers, at different points in the extraction and refining process A complete integrated package solution comprises all the pumps, storage tanks, valves, associated filters and pipework, as well as control instrumentation. These chemical injection packages can vary in size from a simple, single pump skid to sophisticated multi-pump, multi-tier storage and injection packages.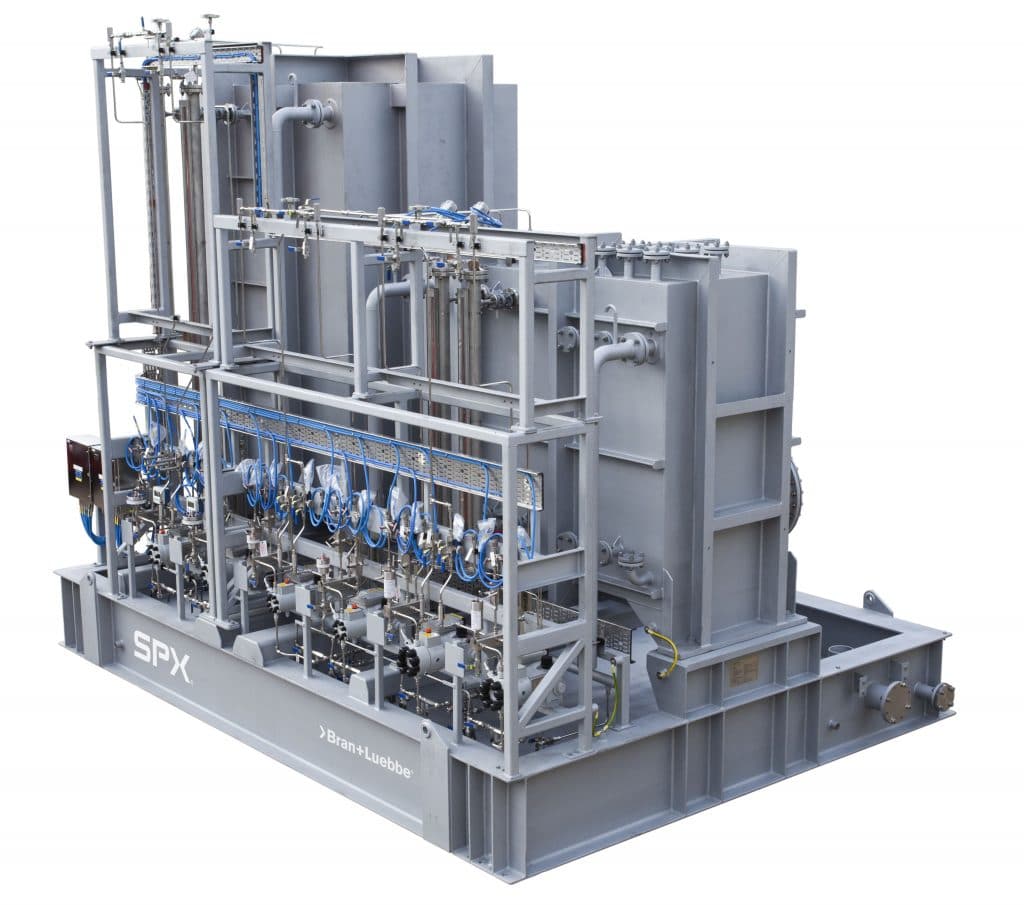 There are numerous benefits to be derived from commissioning a specialist like SPX FLOW to design and build a chemical injection package. The system can be designed to accommodate specific space and weight constraints from the outset while meeting the required scope of supply, rather than bringing together a series of individual components on site. The package is constructed under factory conditions, which results in better build quality, and reduces local build time.
Once complete, the system is subjected to rigorous testing at an SPX FLOW engineering facility before being delivered, which gives confidence that it can be brought onstream more quickly. An integrated chemical injection package is also simpler to incorporate into the wider offshore installation, because it comes ready for final connection. Significant time and cost savings are therefore possible. It also eliminates factors like weather-dependency and creates less on-site disruption.
In addition, dealing with a single supplier greatly simplifies the procurement process and makes sourcing parts or aftersales support so much easier. Customers are fully supported through the SPX FLOW global network, which means whole lifecycle services from qualified engineers are never far away.
The Bran+Luebbe brand is associated with reliable, robust and high performance pumping solutions and has a long and successful history in the oil and gas industry. A global aftermarket footprint and fully qualified offshore service engineers mean that Bran+Luebbe can provide support at any stage of a project: from initial pre-order (FEED), through design and build, to comprehensive testing, commissioning and life-cycle maintenance.   
This is further supported by SPX FLOW's commitment to ongoing technical product development, in-depth understanding of applications, professional services and expert engineering – making it a partner of choice for oil and gas operators.