It produces about 200'000 tons of sugar and 800'000 hectoliters of bioethanol from sugar beet annually. Beets contain 75% water. The major part of this water is extracted and re-used for various applications in the main process prior to being treated in an integrated wastewater treatment plant. The WWTP has a daily capacity of 4'100 m³ and has been modernized regularly during the past few years.
The Challenge
After initial decanting and aeration in ponds, the wastewater goes through anaerobic degradation. This is followed by an anoxic/aerobic treatment with an activated sludge process and nitrification/denitrification. At this stage, the pumps initially installed for the return of activated sludge (RAS) were facing regular problems with frequent stoppage and unplanned maintenance. The situation was especially critical for some screw centrifugal pumps because of expensive spares. It was, therefore, decided to change these pumps to more reliable and economical ones.
The Solution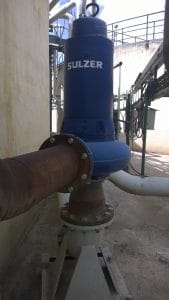 After a thorough analysis of the activated sludge characteristics, Sulzer offered the sewage pumps type ABS XFP with Contrablock Plus impellers and Premium Efficiency IE3 motors. The Contrablock Plus impeller has been especially engineered to handle tough requirements. It provides excellent blockage resistance with a large free solids passage. The Premium Efficiency IE3 motors are explosion proof ATEX certified, conform to IEC 60034-30 and exceed CEMEP EFF1. Because of the dry installation, the XFP pumps were provided with an internal closed-loop cooling system.
Sulzer's pumps and agitators are running smoothly at every stage of the sugar and bioethanol processes. We trust Sulzer's equipment also for our demanding wastewater applications. The XFP pumps installed in the WWTP are extremely reliable and reduce the maintenance costs.

Jiří Kaláb, Production Manager, Tereos Dobrovice
Customer Benefits
In the sugar and bioethanol industries, robustness and reliability of the equipment are of paramount importance. The XFP pumps were taken into operation in 2013 and have been running continuously since then, without any interruption or specific maintenance. In addition, the XFP pumps have highly efficient motors and hydraulics, which make them the most efficient wastewater pumps on the market. In the activated sludge recirculation process, Tereos Dobrovice has achieved a reduction in the power consumption. This not only saves money, but also means a healthier environment and reduction of the carbon footprint.
The Sulzer Difference
Sulzer has thorough experience in the sugar and bioethanol markets, with deep process knowledge and an extensive installed base. Furthermore, Sulzer is a worldwide player in the design and manufacture of pumping, mixing and aeration equipment for industrial wastewater treatment.
The XFP pumps with the new Contrablock™ Plus impeller and efficient hydraulics are robust, reliable and economical.
The measured reduction in the power consumption of the process gives cost savings and contributes to a healthier environment as well as reduction of the carbon footprint.
Product Data