In specific food & beverage applications, viscous media caused overheating in mixing tanks. They tried Infrared and time-based solutions without success before finding a reliable technology with the front flush temperature sensor TSM.
Application Details
One of the key production steps in the food and beverage industry is product mixing. In this process the individual raw materials are blended in exact proportions and under accurate conditions including temperature.
In a specific application the vessel was equipped with an agitator with cum scraper. In the original set-up the temperature control was first effected by an infrared, then by time based monitoring. Due to the sticky and viscous consistency how-ever the media was not measured correctly, causing time and again a product overheating in the tank. As a result the entire product batch was unusable and its value completely lost. In addition the installation had to be cleaned causing another substantial loss due to process downtimes. The Engineers team had the clear objective of stopping the overheat and ensuring a high level of product quality.
The Anderson-Negele solution
After thorough examination of the application parameters the Anderson-Negele team proposed installing the TSM Temperature Sensor with a weld-in sleeve process adapter with G 1/2″ hygienic process connection. Main advantage of this very compact sensor is its front flush design, so that there is no component protruding into the vessel and the mixing devices can perfectly work without obstruction. The special design also ensures a very precise measurement with extremely short response time, so that the control of all media including sticky and viscous media is in real time and highly accurate.
The head of this Mini version sensor is only 18 mm in diameter and can be integrated easily in all types of tanks and pipes, ma-king stirring devices or pigging possible. After the initial tests the Engineers team was perfectly satisfied with the solution of installing the TSM at their plant. It was easy to install, and in the process it fulfilled their requirement for a fast-response and high-accuracy temperature control in the Batch Mixing tank to avoid overheat.
Customer testimonial:
We never compromise on the equipment we provide with our installations to our customers in the pharmaceutical, cosmetic and food industry. The mixing tanks for sticky media caused a real problem with overheating. After many failures Anderson-Negele finally presented to us the best solution with their front flush temperature sensor which guarantees a reliable process control.
Sensors used in this application
TSM / TSB front flush temperature sensor
Advantages:
For production process monitoring, CIP-/SIP control and UHT plant supervision·
Flex-Hybrid Technology: digital IO-Link, analog 4…20 mA or both communications in parallel·
Ideal also for sticky and viscous products
Front flush design for vessels with agitators or for pig cleaning in pipes
Mini-version TSM with only 18 mm diameter or
Big version TSB with 55 mm diameter
Extremely robust and long lasting, completely made of stainless steel·
3-A compliant
Measuring range -50 up to 250 °C (-58 up to 482 °F), high-temperature version from -200 up to 400 °C (-328 up to 752 °F) ·
With or without transmitter·
Optional LCD display possible with TSB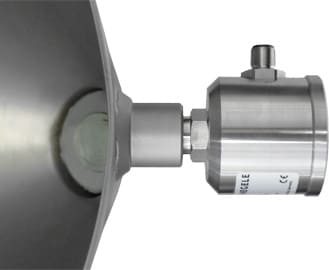 Thanks to the hygienic flush design without dead legs no sensor parts protrude into the vessel, and the process connection is easily cleanable