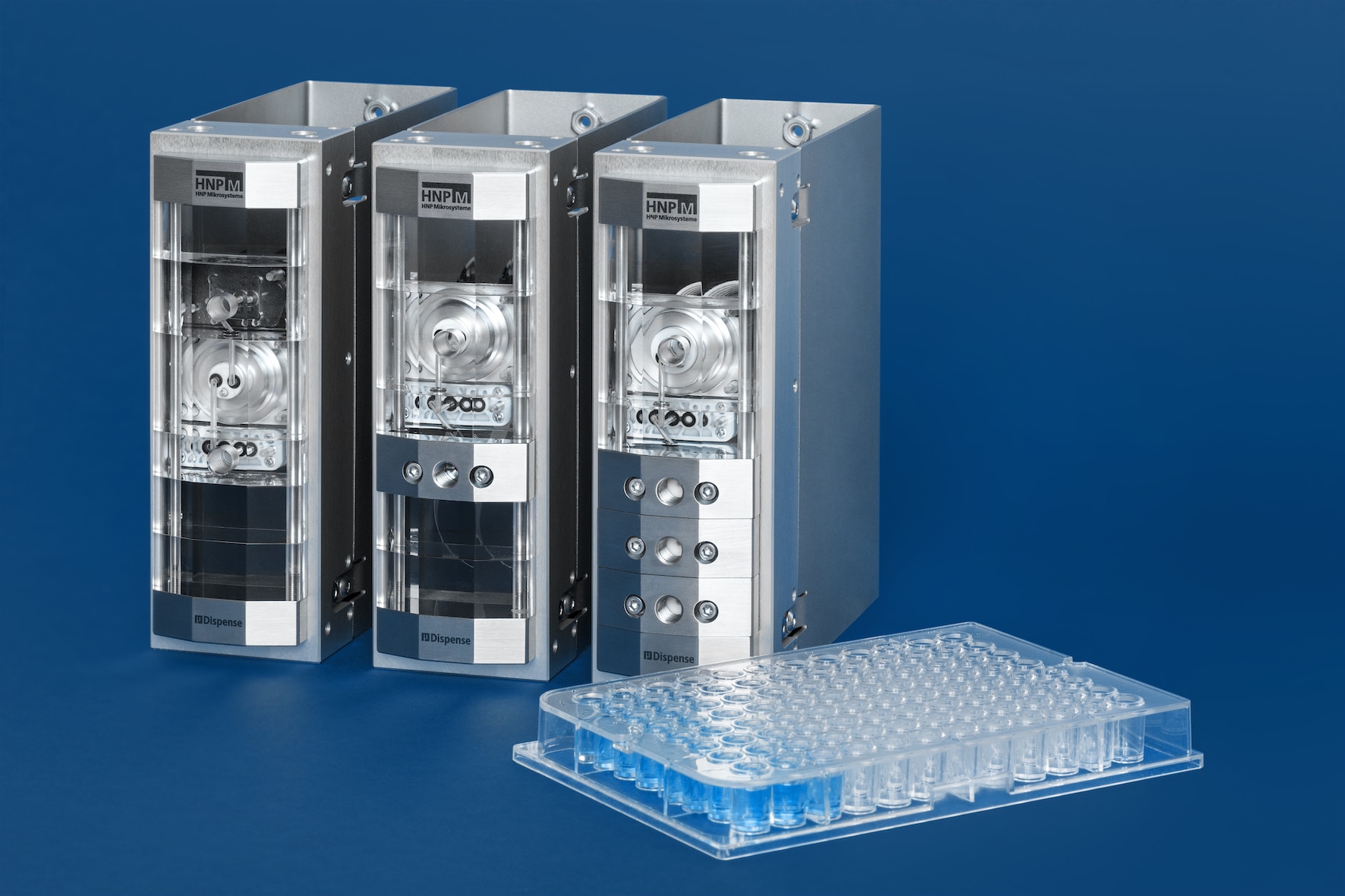 HNPM introduces the Micro Dispense Module µDispense®; a compact system for the precise dosing and metering of liquids in the microliter to milliliter range. µDispense® guarantees a process-safe liquid handling, with high precision and trueness. It reduces maintenance expenses due to its long service life.
The size of a Micro Dispense Module corresponds to the half-height syringe pumps format. With the Cavro® script language protocol and an extended command set, syringe pump programs can be processed. Due to the interface compatibility, syringe pumps can easily be replaced.
The Micro Dispense Module is characterized by its modular design with optional modules, such as shift able in- and outlet, optional pump size, filter and flow sensor. 
The core component is a micro annular gear pump, a robust and highly precise device with an extremely long service life and low pulsation. The quiet and rotatory operating micro annular gear pump allows dispensing smallest volumes of liquid on the one hand, and a continuous, uninterrupted and reversible flow on the other hand. 
Rinsing with high flow rates is also possible with the same system. Powerful electronics with integrated drive controller monitors and controls the system. Together with the flow sensor a closed loop-controlled flow is possible.
Applications:
Analytical instrumentation
Biotechnology
Laboratory automation
Dispense Module in syringe pump format:
Size of half-height syringe pumps format
Communication via syringe pump programming commands and expanded command set
Compatible integration in analytical devices
Modular design (fluid in- and outlet, sensors, filter, materials)
Low noise level
Micro annular gear pump:
High precision of dispense volume and volume flow
Discrete dosing of smallest liquid volumes
Continuous, uninterrupted volume flow with low pulsation
Wide dynamic range of pump with low dosing volumes and high volume flow for rinsing without replacement of components
Long service life and low life cycle costs
Low cycle times
Sensor control and monitoring:
Precise controlled volume flow
Fault detection
Monitoring and documentation
This article is published by
Since 1974, Suurmond has designed, manufactured and delivered sustainable and custom made solutions for the processing industry. With a portfolio of high quality and sustainable products, years of experience and know-how Suurmond is capable to help you improve your production efficiency. Products such as gear pumps, dosing systems and screen changers ...