For this type of demanding process, the MAAG gear pumps and MAAG screen changers are the optimal solution.
Beardow Adams is a world-leading adhesive manufacturing company and since 1977 they have designed and manufactured adhesives for a large range of industries, supplying more than 10,000 respected companies in over 75 countries.
Hotmelt adhesive filtration unit with transfer pump
The production facility in the UK was in need of two high-precision filtration units complete with gear pumps and control systems.
The first unit was designed to transfer 15,000 litres per hour from a mixing vessel to a holding vessel. For this first application we selected the DSC148 single piston screen charger of MAAG Pump Systems AG from Switzerland. This has a 148.3mm screen diameter and oil heating channels within the body. The DSC148 was selected to ensure it has the right level of filtration area at the given flow rate, resulting in an acceptable lifetime.
For the transfer of the adhesive a MAAG Therminox® 110/110, oil heated, pump was selected with special bearings and special clearances to achieve the maximum pump efficiency and the correct lubrication.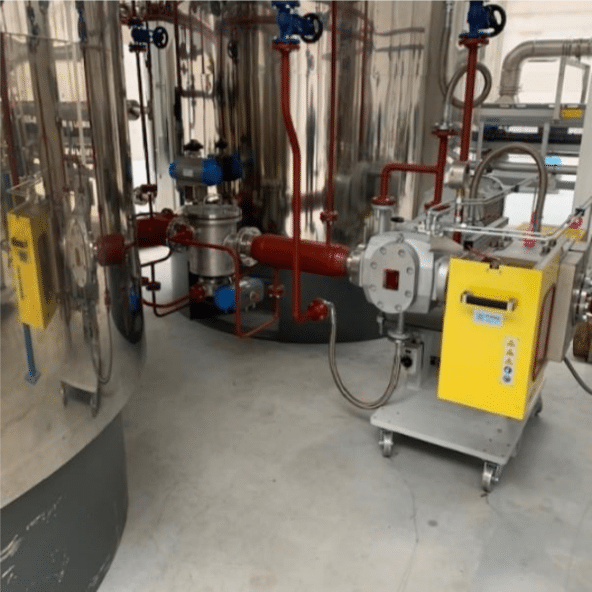 Change filter during production process and accurate dosing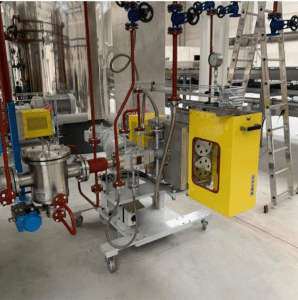 The second unit was specified to dose 2,000 to 2,500 litres per hour of mixed adhesive from holding vessel to a cooling belt at a constant pressure and flow rate which would be determined by the adhesive formulation.
For this application it was very important to have a continuous and constant flow. A Maag CSC148-R twin piston screen charger with oil heating was selected to allow for filter change without interrupting the production run.
The CSC148-R offers a total filtration surface area of 1,596cm2. Due to the open design of the support frame it allows for easy access for maintenance and equipment cleaning.
The MAAG Therminox® 56 size pump was selected as a lower flow was required to dose the adhesive to a cooling belt. The MAAG gear pump design allows for a pulsation free delivery of the adhesive to a very high degree of accuracy which results in a better quality of the end product.
Problem-free, continuous process
To allow for a problem-free, continuous process, a Siemens control system was programmed to control the pump speed, monitor pressure, temperature, heating control, hydraulic power pack, safety interlocks and alarm settings to inform operators when filter change is needed and if any of the various parameters fall above or below their limits.
Scope of supply
Over the past years Suurmond supplied various units to Beardow. The scope of supply of this particular system comprises:
MAAG gear pump type Therminox® 110/110 with geared drive unit
MAAG single piston – discontinuous – screen changer type DSC148
Hydraulic power unit for screen changer DSC148
Support frame
MAAG gear pump type Therminox® 56/56 + geared drive unit
MAAG Double piston – continuous – screen changer type CSC148-R
Hydraulic power unit for screen changer CSC148-R
Adapters
Thermocouple 'J' type for temperature control
Control system with temperature and pressure sensors for both units