A new technical centre in Biberach, Boehringer Ingelheim's largest research and development location in the world, safeguards the production of innovative pharmaceutical active ingredients. A total of 15 chemical reactors supply the required quantities of substances within the 2,700 m2 pilot plant. The size of the new technical centre is illustrated by the products supplied by Festo: 12 inert gas stations, 40 valve terminals CPX-MPA to control the process valves and around 200 automated ball valves and shut-off valves.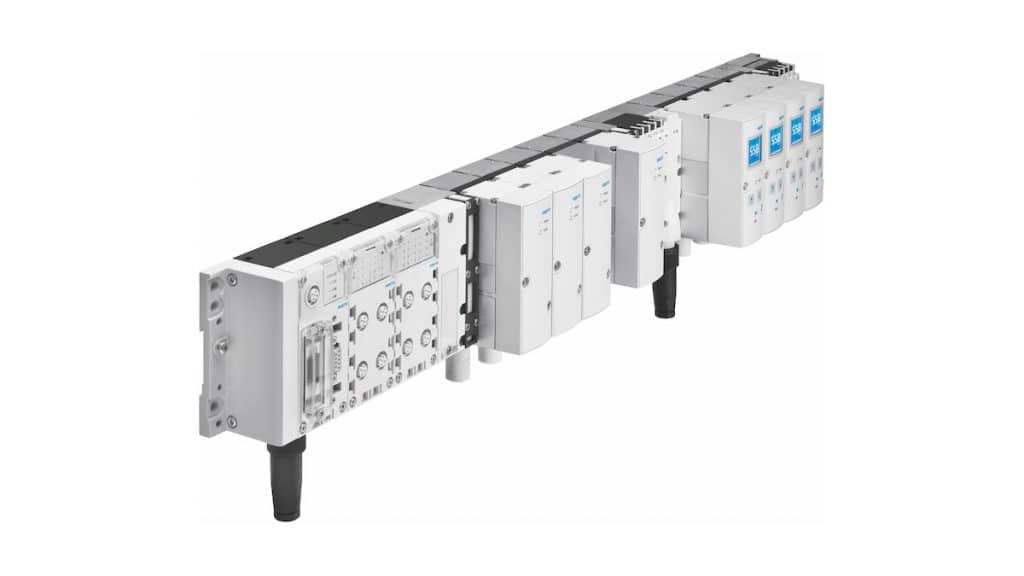 Proportional regulation of argon and nitrogen
Festo, as the chosen solution provider in the field of process automation, was involved in the project from the very beginning. As the production of active ingredients involves flammable solvents, many processes are carried out in reactors, centrifuges and dry cabinets with inert atmospheres. While with the previous installation three pressure levels were required in order to regulate the argon and nitrogen, each with its own piping network, control valves and flow meters, in the new installation this function is provided highly efficiently by compact proportional pressure regulators VPPM from Festo. Thanks to their wide control ranges, two pressure levels are sufficient.
In order to minimise the installation space required, the Festo proportional pressure regulators VPPM were integrated into a valve terminal MPA. Together with the automation platform CPX, this forms a compact solution. A pressure measurement module CPX measures the gas input pressures in the relevant installation areas. The comprehensive monitoring made possible by this solution opens up a variety of new diagnostic options compared with the previous solution
Automation platform CPX
Festo proportional valves in combination with flow meters and pressure sensors are also used in the new technical centre to supply gas lubricated mechanical seals. When connected to the process control system via the CPX and the integrated fieldbus node, the valve terminal MPA facilitates central monitoring of the gas consumption of the seals and control of the pressure as a function of the internal tank pressure. This continuous condition monitoring reduces maintenance costs.
By integrating Festo proportional technology, Boehringer Ingelheim is able to enjoy a number of advantages. The multi-sensor control of the VPPM with integrated pressure sensors and a PID controller provides high-quality control results and robust control behaviour. The fact that the control cabinet is installed in the technical corridor instead of the reactor room saves money when EX protection is required.
Flexible and simple control
The installation can now be controlled much more flexibly and easily. What is more, Boehringer Ingelheim was able to reduce installation costs compared with the technology previously used. Functional, flexible and attractively priced, the Festo proportional valve technology, developed and supplied as a complete solution, ensures long-term increased efficiency for this pharmaceutical company's process automation.