The Customer
An industry leader in engineering with over 5,000 employees across more than 40 countries, our customer supplies products and engineering services that improve plant performance and help their customers to achieve their environmental goals by designing new facilities and upgrading existing systems. With over a century of history, the company has revenues of more than $1bn.
The Challenge
Our customer had integrated a competitor's counter into their pressure powered pump system to record each time the pressure tank was filled. The system used a float sensor to detect when the tank was filled. When the float switch in the tank activated during filling the turbulence in the water would cause the float to go up and down quickly. This resulted in the counter making multiple counts for a single tank filling, giving false data and making it impossible to take accurate recordings. They approached the original counter manufacturer about making a custom counter for this application, but they were unwilling to do so.
The Solution
Finding the right solution – a true partnership approach Our willingness to create a custom solution came in stark contrast to their previous supplier. For Trumeter, custom is our passion. We developed two possible solutions; a hardware solution, and a custom firmware solution, with neither requiring any external components. Both solutions ensured that once the float switch is activated, further activations will be ignored for a few seconds, giving time for the water to settle down, and thereby removing the spurious counts. Opting for the hardware solution, our challenge was adding enough filtering to the input circuit to eliminate the contact bounce of the float switch. Our approach was to base the solution on our standard 7111 counter and increase the capacitance in the input circuit to dampen the contact bounce. The added filtering on the input circuit resulted in every one full tank registering exactly one count on the counter display. Without knowing the exact conditions inside of the tank, or how much contact bounce was occurring, our engineering team worked closely with the customer to create multiple samples of the customized counter with different levels of filtering – a true partnership approach.
The Result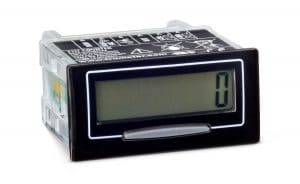 Innovation, efficiency and safety Since replacing their previous counter with Trumeter's version the customer can take accurate readings all day every day. That means their users can be confident in the number of times a pump has been activated, resulting in greater customer confidence and satisfaction. As a result is that they, and their customers, can accurately plan and forecast usage, control the process properly and plan their maintenance schedules accurately
Based on our 7111 counter, we increased the capacitance in the circuit to dampen the contact bounce, making each tank measure a single count.