These are shut-off and divert single seat valves, INNOVA N and INNOVA K. The hygienic option comes with new sizes compared to the larger valves in its range and the design has changed: the bodies don't join using clamps as with the larger sizes, they are one-piece bodies machined from a bar.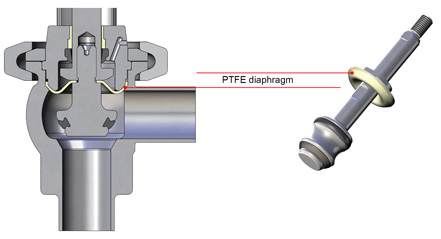 This new structure means that the shaft/seal has also been redesigned and instead of having 2 tapered gaskets, the upper one is now radial, enabling the disassembly of the valve for maintenance.
These aseptic valves are intended for installations that require high levels of purity, particularly in the pharmaceutical and cosmetic industries, such as manufacturers of injectable medicinal products, creams, etc. They are also essential in some food production phases, as the process control requires very strict levels to minimise the risks of contamination from external sources.
In food-processing plants, there is an aseptic "post-pasteurisation" area where these strict levels of process isolation are found and where only this type of valve can be installed.
By adding this new valve range, INOXPA is making further progress, extending their profile through all production phases and meeting needs from the most demanding industries.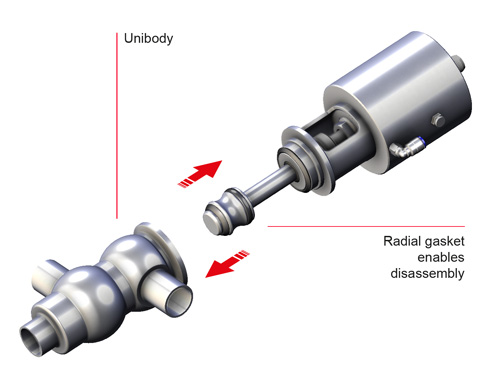 The aseptic valves aim to avoid potential product contamination from external agents in the environment, such as micro-organisms, bacteria, etc.
As well as being designed and manufactured with optimised materials and finishes for total cleanliness, each valve component that comes into contact with the process is hermetically sealed from the surrounding atmosphere – the valve in this case. A PTFE diaphragm was fitted and attached to the shaft and the internal part of the upper body, so that the shaft section entering and exiting the valve always remains isolated from the process.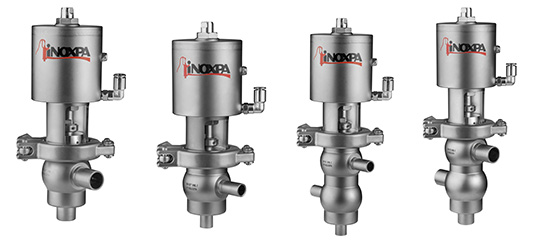 INOXPA designs and manufactures all types of seat valves in order to satisfy the specific needs of each process and industry. Discover our single seat valves or double seat valves (mixproof).