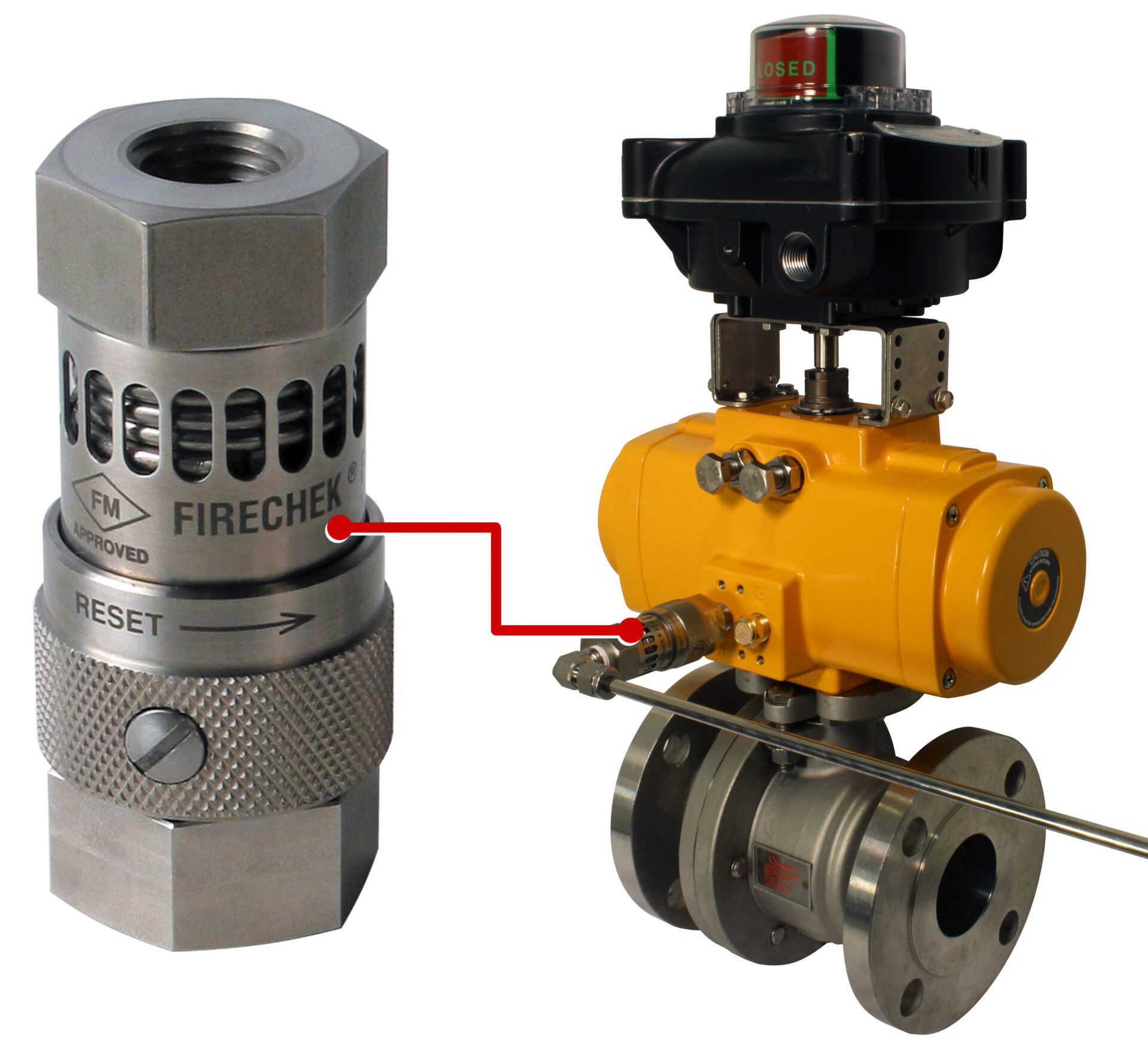 Actuated valves come in all shapes and sizes and are vital components in nearly all pharmaceutical plant processes.
Fail closed spring return actuators are among the most commonly used for both on/off and modulating control valve applications. The FireChek® from Assured Automation adds thermal shutdown capabilities to any such valve easily and inexpensively. It does so without affecting the normal operation of the valve.
A fail closed, spring return valve assembly will close if air pressure is lost. It will also close if electrical power to the solenoid valve is lost. Installing the FM approved FireChek to the actuator's air supply line will add thermal shut-off functionality on top of that. Insurance companies require thermal shutoff valves on any lines with flammable liquids to ensure plant safety.
This small inline component takes up virtually no space and at just under $350 is only a small fraction of the cost of a separate dedicated valve assembly for thermal shutoff purposes only. A ½" firesafe ball valve with spring pack and fusible link cost over $1,200, take up more space, and current supply chain issues are making them extremely hard to find. Current lead times can be over 20 weeks! A 2" swing check valve with fusible link costs over $3,500
The FireChek has additional advantages over fusible links, fusible plugs, and burn-through tubing. It can be tested and reset. It doesn't need to be replaced unless there is an actual fire event. The FireChek also shuts off the supply air when venting the actuator so that the air does not feed the fire like it would with fusible plugs and burn through tubing.
The FireChek itself is a 4" long cylinder with a 1 ¼" diameter. It has ¼" NPT female connections for easy installation whether it's a new install or a retrofit. For use on larger actuators there is a quick exhaust module available to increase the closing speed. For extremely large actuators, a spool valve can be added for even faster venting.
The functionality of the FireChek is produced by a spring made of a proprietary shape memory alloy that changes shape with heat. The spring expands with heat causing the valve to actuate at the specified temperature. 165˚F is the standard, but other temperatures are available. Pharmaceutical plants all over the world are taking advantage of the FireChek to reduce costs while increasing safety, and reducing insurance rates due to the FM approval.
This article is published by
Assured Automation is a leading provider of automated valves and flow components for industrial process control applications. For over 30 years we have been providing state of the art automation to a diverse clientele ranging from small equipment manufacturers to the Fortune 500 Manufacturing, Chemical and Pharmaceutical Companies. Our product line ...