The town of Lebanon, Indiana, is preparing for significant growth in the coming years. One of the keys to success will be improvements to its wastewater treatment infrastructure.
So far, one lift station has been upgraded with two Tsurumi AVANT MQC Chopper pumps — and the result has been smooth operation and significantly reduced callouts.
Tsurumi's FM-rated pumps are poised to play a key role in growing and improving Lebanon's wastewater system; the pumps offer multiple impeller options and horsepower ratings from 4 hp to 215 hp.
The town of Lebanon, Indiana, has extensive plans for expansion in the coming decade. As the municipality attracts new large-scale commercial and residential developments, the Tsurumi AVANT MQ pump line is set to play a crucial role in ensuring its successful growth by supporting upgrades and expansion of its wastewater treatment infrastructure.
Lebanon, which sits about 30 minutes northwest of Indianapolis, is already home to nearly 17,000 inhabitants and will soon welcome 800 new homes. Additionally, a major pharmaceutical company has started construction of a new manufacturing campus in the area.
Residential and business growth will require several additional lift stations, and Lebanon Utilities is already gearing up for it. Lebanon currently has 17 stations, with another two currently under construction. Plans include increasing the total to 40 over the next decade.
Lebanon Utilities upgraded a problematic duplex lift station in June 2022 with a pair of AVANT MQC Choppers. The result has been trouble-free performance since installation. In addition, the MQC Chopper pumps help Lebanon save both time and money due to reduced callouts. The AVANT line, designed to provide long life and reliability, will help support Lebanon's growth in infrastructure with its wide application range.
"We're trying to be proactive, so I'm excited to order a third unit that will serve as a backup pump," said Cameron Kearney, the wastewater supervisor with Lebanon Utilities. "Our plan is to establish a system of spare pumps that could be quickly dropped into any of our stations if the need arises — although the AVANT pumps haven't let us down yet!"
No clogging and callouts
To date, the AVANT MQC choppers have yet to clog or "rag up". According to Kearney, the previously installed pumps were problematic, with numerous stoppage issues, resulting in frequent callouts and downtime to the system. AVANT's chopper design system has eliminated this problem, to date.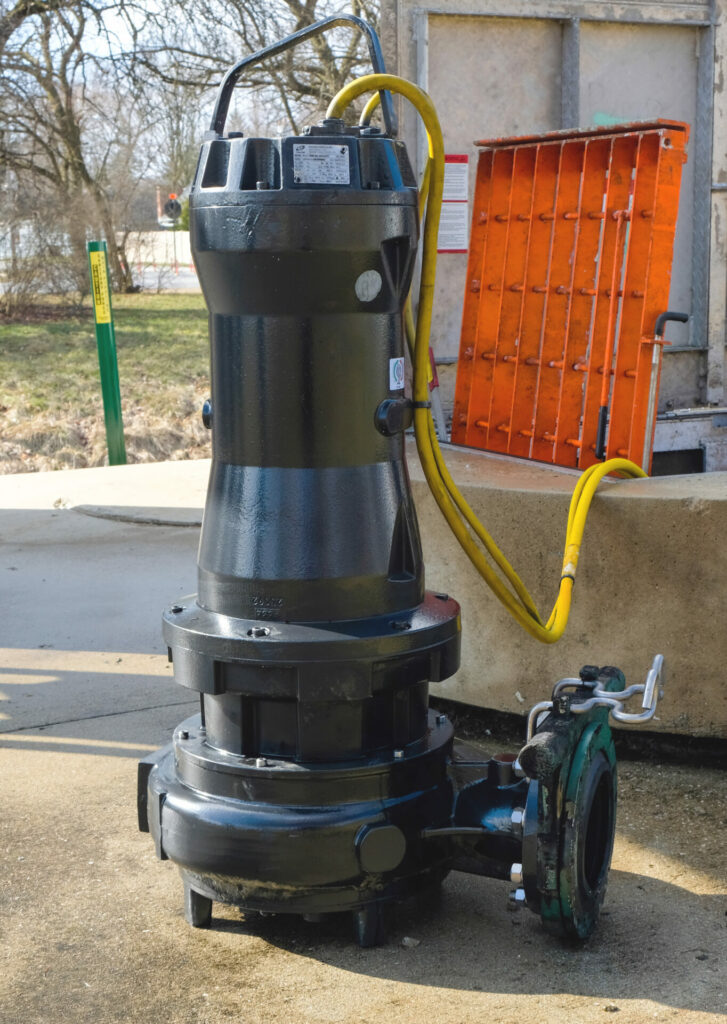 "We've never been called out to resolve a clogging situation since installing the AVANT pumps about eight months ago," Kearney continued. "That's due to the efficiency of their chopping mechanism which was probably the biggest factor in our purchasing decision."
Kearney's colleagues at the plant — Cory Rowland, Chris Chase, and Jacob Pearl — said they agree with the substantial improvements seen after the Tsurumi install. The team of wastewater operators also played a part in deciding to move forward in working with the AVANT MQC Choppers.
Lebanon Utilities has been a customer of Tsurumi distributor BBC Pump and Equipment Company for over 10 years. Lebanon has a successful history with the Tsurumi Cutter series, making Kearney's and his team's task of persuading his Board to switch directions much easier.
"Their new maintenance team is proactive, so they're very open to giving new product lines a shot to see if they're a good fit," said Taylor Stock, municipal outside sales for BBC. "Given the success they've had with other Tsurumi pumps, they were excited to look at our recommendation. The install went flawlessly, and the pumps have been running for nine months without any problems. We're looking forward to supplying more AVANT pumps to help Lebanon Utilities cope with the challenges the next decade will bring."
AVANT: Pumps built to meet exact needs
The AVANT line is Tsurumi's FM-rated wastewater offering. With multiple impeller options, horsepower ratings from 4 hp to 215 hp, and ANSI flanged discharges up 16 inches in diameter, the AVANT line is up to the toughest wastewater challenges.
There are several reasons for AVANT MQ line providing exceptional performance. IE3 premium-efficiency motors drive the pump. The modular pump design allows for multiple combinations. AVANT pumps can be optimized to the customer's precise needs, with multiple impeller and wet end combinations to handle particular types of wastewater and duty points.
The chopper impeller is supplied in hard cast iron as standard. The result is a resilient chopper system designed for long-lasting performance in real-world applications. The implementation of an oil lifter keeps the upper silicon carbide mechanical seal constantly lubricated, offering more effective protection against wear.
In addition to the choppers of the MQC range, four other impeller designs are offered to precisely match customer needs — Open Channel (MQB), Vortex (MQU), Grinder (MQG) and High Head (MQS).