Available in sizes 1/2" / DN15 through 1" / DN25 with true union end connections, the SV Series in PVDF is the ideal choice for extremely corrosive, high temperature or sensitive medias.
The Hayward SV Series Solenoid Valve, now in PVDF, is a continuous duty rated normally closed/fail closed valve that allows ease of service and long term performance. The SV Series in PVDF are fully pressure rated for 150 PSI / PN10 at 70°F / 23°C non-shock across all sizes. FPM Seals are standard, with EPDM as optional. Due to its PVDF construction, maximum service temperature is 240°F / 115°C. End connections available include socket fusion or threaded per ANSI or DIN/EN standards.
Key Features, Benefits and Advantages Include:
Corrosion Resistant Polyester Coil
Does not require pressure differential for operation
Integral footpad for skid or panel mount
Hermetic separation between medium and solenoid
The solenoid can be replaced without removing
the valve body from the piping system
Normally Closed/Fail Closed Design
Available with ½" conduit or SJ Type Connection
120 VAC Standard – 220VAC, 24VAC, 12VAC, 12VDC,
and 24VDC Voltage Options Available
Backed by Hayward's Exclusive 3 Year Warranty
Made in the USA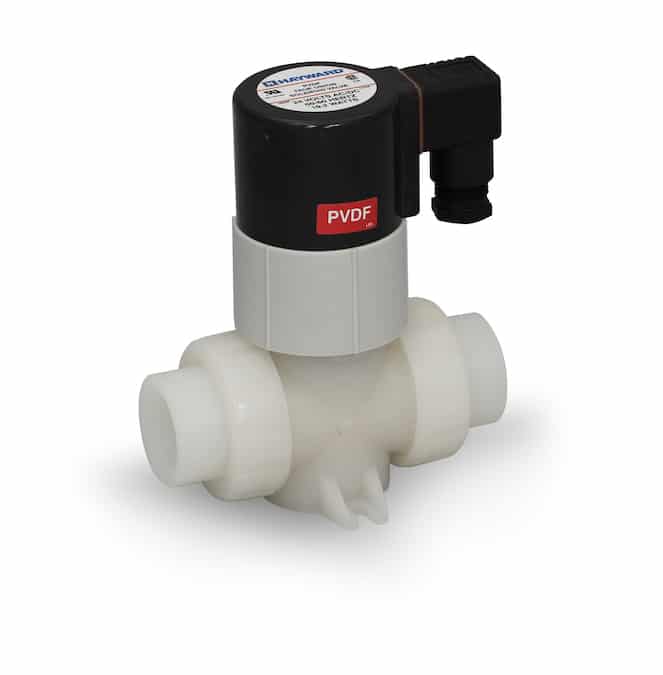 Typical applications and installations for the SV Series include in PVDF, but not are not limited to, municipal waste and water treatment, clean water technology, chemical transfer and processing, , mining and mineral processing, metal plating / surface finishing, pulp / paper, and other demanding applications.
The Hayward SV Series Solenoid Valve in PVDF joins these other great Hayward product families also available in PVDF: TB Series True Union Ball Valves, TC Series True Union Ball Check Valves, YC Series Y-Check Valves, YS Series Y-Strainers, SB Series Basket Strainers, NVA Series Needle Valves, PBV Series Backpressure Valves, RPV Series Pressure Relief Valves, IV Series Injection Valves, IQ Series Injection Quills, Z Series Diaphragm Metering Pumps, and S & T Series Pumps.